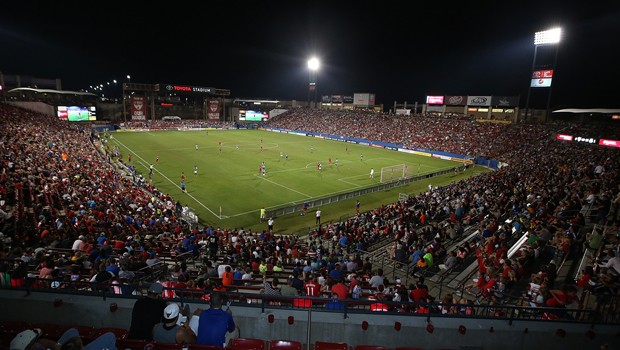 The Frisco, Texas, city council and school board has approved a $39 million upgrade for Toyota Stadium, home to FC Dallas. That approval also brings the National Soccer Hall of Fame Museum, which will be part of a newly constructed second level of the stadium.
"Other improvements to the 10-year-old stadium are designed to better accommodate the NCAA Football Championship Subdivision title game, which will be in Frisco in January for the sixth year," Valerie Wigglesworth reported for The Dallas Morning News. "Those upgrades include two 100-person locker rooms, more restrooms, more concession stands, a team store, a suite-level expansion, and better audiovisual technology. Crews will also build two access tunnels from the locker rooms to the field level."
Toyota Stadium currently seats 20,500 guests and regularly plays hosts to concerts in addition to sporting events. It attracted more than two million visitors to Frisco in 2014.
The National Soccer Hall of Fame Museum houses more than 80,000 artifacts and records, including the world's oldest soccer ball.
A press conference is set for October 14 to present more details.
(Image: FC Dallas)