By R.V. Baugus
When the Monster Energy AMA Supercross was shut down after completing 10 of its scheduled 17 races this past March due to the COVID-19 pandemic, there was no finish line in sight for the conclusion of the FIM World Championship event.
So, when Feld Entertainment announced that the racing would resume on May 31 at Rice-Eccles Stadium on the campus of the University of Utah in Salt Lake City, not only was there a huge exhaled sigh of relief from those involved, but for the industry as a whole and for Aaron White and his team in particular.
"We have a great relationship with Feld," said White, who serves as director of Rice-Eccles Stadium/Jon M.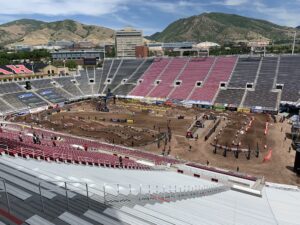 Huntsman Center. "I've been here 26 years and have spent time over those years playing in the mud and digging bikes out of the mud. My relationship with Dave Prater (executive director of Supercross) goes back to 2001 and a number of groups made it possible that we would resume Supercross."
The seven races concluded on June 21 and took place on Sunday and Wednesday beginning on May 31. The final seven made-for-tv races were broadcast on NBC networks without fans in attendance. The Utah Sports Commission, a longtime partner of Supercross, coordinated the race's return to Utah, where finals were scheduled to be held.
"Then the COVID hit and everything got canceled," White said. "That was on May 2 for us. Then I got a call the second week of May from Sue Quinlan, Feld's booking director, asking if we would be interested in hosting the seven televised races with no fans."
White noted the Utah Sports Commission's partnership as well and that after visiting with Jeff Robbins, the commission's president and CEO, things got closer to the event taking place.
"When the University closed we did not want to be seen as taking the front seat in this," White explained. "The sports commission stepped up and they became the primary sponsor for the event. Between Jeff working the political side and my working with Supercross, we put together the start plan and how we would manage riders. Basically, it was estimated 900 people would be here for each event. Getting them all tested (for COVID), getting them all in and out would go into the plan. We did that and started moving in on May 15."
There were still hurdles to clear including selling the event to the University's administration and working with various health department agencies.
"We had to get everybody to sign off on it," White said. "The state health department had to say yay or nay. It fell to Jefferson Burton, who is now the director of our state department and was appointed at the time of the outbreak. It was basically the governor (Gary Herbert) and General Burton saying we are doing it."
White said the logistics of getting dirt on the field and what the tracks would look like took care of itself. The more intense issues would be getting people into the venue, "so we required everybody be tested before they came onsite. People were flying in to the state and all had to be tested and have a negative test before they were allowed in."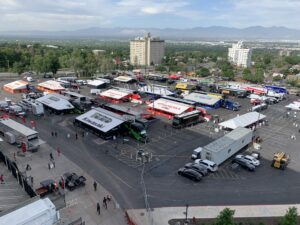 On the opening race day, all who entered filled out a questionnaire that asked about COVID symptoms. Any positive answers resulted in individuals meeting with an onsite medical group that would do a follow-up and determine whether admittance would be allowed. From there, it was on to will call, where individuals provided their names that would show up on a database.
"We knew every single person on site," White said. "They got a wrist band and were allowed to go to the gates where they would have their temperature taken and depending on that allowed in or not."
The next morning, attendees cut off their wristbands and completed the paperwork once more in order to get banded for the second race. Testing was not required again. White estimated that some 1,300 people in total were tested, including riders, their families, and other essential workers.
White said that one immediate necessity was the creation of a safety committee that consisted of White, his operations manager, Feld's safety officer and legal counsel, health department, and emergency response team.
"We realized right away it was taking too long to communicate changes in the plan and things that were happening," White said. "So, we initiated the safety committee and met on Monday and Friday each week. We discussed what had happened at the previous event and what things we were doing to prepare for the upcoming event. That committee became invaluable because we were able to share information among all the power people that was delivered directly. We had the COVID thing we were dealing with and had a positive test come back and had to isolate and do some different things, but the plan worked exactly the way it was designed."
As any venue manager worth his building's keys will tell you, it is a life of preparing for the unexpected. Turns out this event was no different.
"We dealt with the positive test, we had a lightning storm come through and had to do a lightning delay," White said. "The delay passed and we thought we were good but then lightning hit a sub-station about five miles away and knocked our power out. It fried a bunch of stuff so we had to react to that.
"Then we had the protests the day before a race. It got intense and then there were protests the day of the race. We had about 2,500 protestors right below our paddock. We had one other race where the skies just opened up and ended up with mud and water everywhere.
"Dave was like, 'you're sitting in a table top exercise and going, OK, let's just make a list of things that can go wrong at the event and discuss how we would deal with them.' I think we put a check in every box."
Still, White said it was a great event that brought $13 million to the Salt Lake area.
"As a University, you look at seven events like that and think, oh, we're going to make a ton of money. Well, a lot of that money comes from concessions and ticket sales. It wasn't so much about us making money as it was about us being able to pull people back off of furlough and put them to work and do what we do. That's what it was about."
SX 2020 Quick Facts
Event Timeline:
 Friday May 15th to Wednesday June 24th (35 days)
 Seven Televised Events
– Sunday May 31st
– Wednesday June 3rd
– Sunday June 7th
– Wednesday June 10th
– Sunday June 14th
– Wednesday June 17th
– Sunday June 21st
Events Facts:
 546 Dump Truckloads of dirt
 62 Semi trucks race teams and event
 3000 linear feet of fence
 250 bike barricade
 62 hand sanitization stations
 Tested 1376 individuals for Covid 19
 Follow up tested 19
 Managed one Positive
 Denied access to 26 individuals per an answer on the questionnaire
 Denied access to 13 individuals per symptom check at the gate
 Average 846 staff and teams on site throughout the event
 Concessions staff provided an estimated 5500 meals for staff, promoter, and Broadcast
 Generated an estimated $13 million for the Utah economy
Issues Encountered and Managed during the Event:
 Covid 19 Pandemic
– Implementation of Prevention Plan
– Testing Coordination State, County, National Guard, four locations
– Employees not wanting to come back to work
 Set up and management of an RV park in the guardsman lot
 Protests and Riots
 Power outage
 Weather
– Lightning Delay
– Rain for two races storm water and mud