AEG Presents Rocky Mountains in partnership with DDM Presents announced a new collaboration with the Vail Valley Foundation to book the legendary Gerald R. Ford Amphitheater for the Whistle Pig Vail concert series.
The Gerald R. Ford Amphitheater in Vail, Colorado, is a spectacular outdoor venue that seats 1,265 guests in covered seating and an additional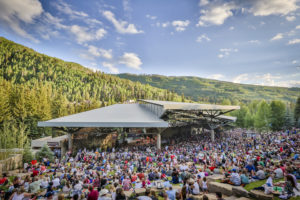 1,300 on its expansive grassy hillside with a breathtaking view of the Rocky Mountains.
Each summer for the past 30 years, the Gerald R. Ford Amphitheater has hosted an array of cultural and entertainment offerings, ranging from internationally renowned dance and music presentations, courtesy of the Vail Dance Festival, GoPro Mountain Games and Bravo! Vail, to the free weekly concerts of the Hot Summer Nights series. In addition, local chorale and theater presentations annually grace the Amphitheater stage, while headlining concerts round out the summer calendar.
Now, the Gerald R. Ford Amphitheater will host headliner rock and pop music all summer long as the new Whistle Pig Vail concert series launches in 2018, with more detail on the artists and dates coming soon.
"Our Vail Valley community loves music, and we couldn't be happier to be bringing incremental, great music offerings to the beautiful Ford Amphitheater with the help of a legendary group like AEG Presents Rocky Mountains," said Mike Imhof, President and CEO of the Vail Valley Foundation. "Vail in Summer 2018 is going to be better than ever before, and will set the bar for many years to come in the mountain music scene."
AEG Presents Rocky Mountains and its principals have a proven reputation of creating strong partnerships and developing successful content in venues including Red Rocks, Fiddler's Green Amphitheatre, 1STBANK Center, Ogden Theatre, Bluebird Theater, Gothic Theatre, and more.
"The Gerald R. Ford Amphitheater is one of the most beautiful venues in the world and we can't wait to help bring more world class music to the Colorado mountains with the Whistle Pig Vail concert series," said Don Strasburg, CO-President, AEG Presents.