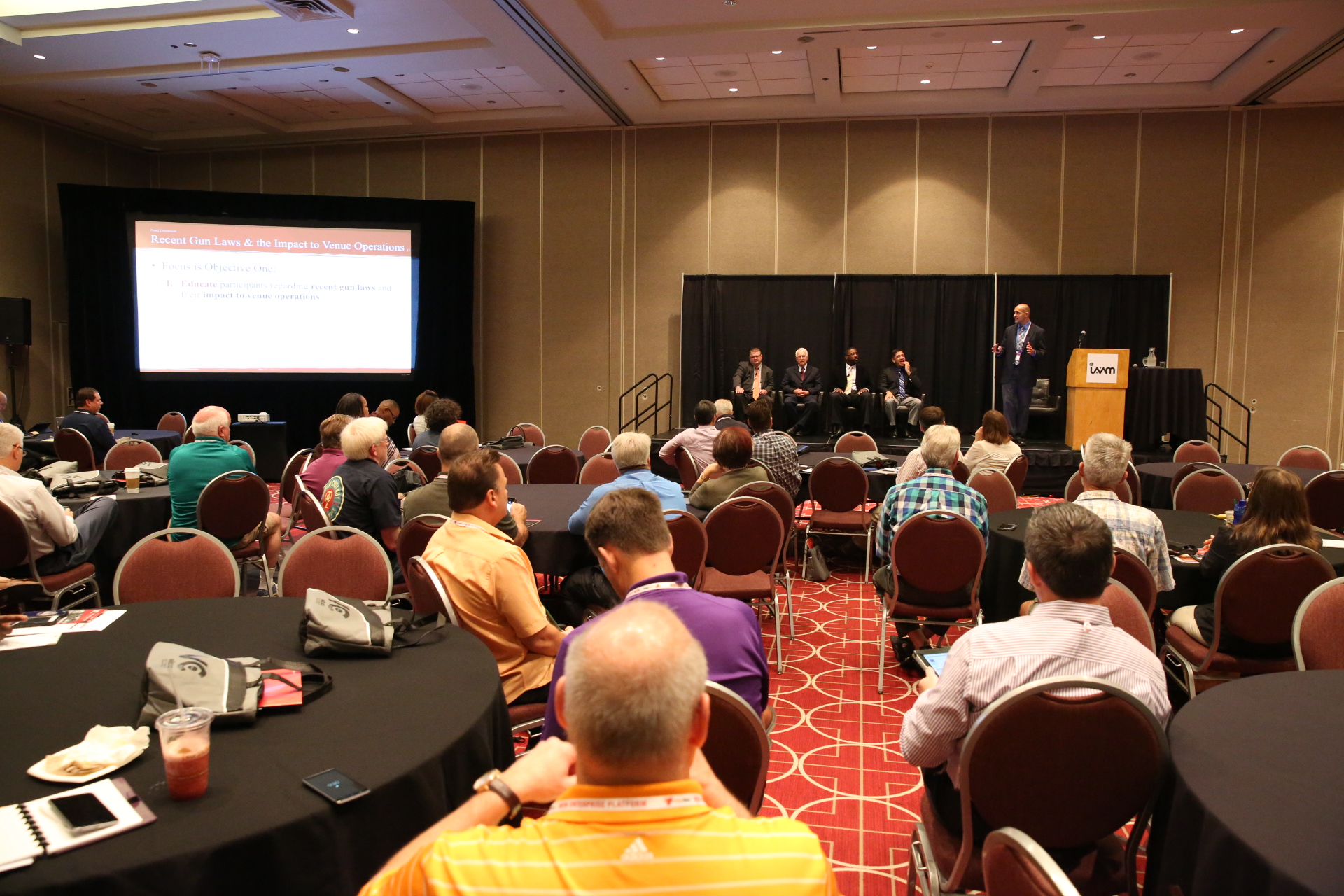 More than 100 attendees participated in "The Impact of New Gun Laws on Public Venues" workshop at VenueConnect on Saturday, July 23. Andy Jabbour, founder and president of Gate 15, facilitated a panel featuring Russell Read, CFE, CMP, vice president of Operations at AT&T Performing Arts Center; Marcus Travis, guest and security services manager at the Minneapolis Convention Center; Frank Ingoglia, IAVM's research manager, and Mark Herrera, IAVM's director of education. The goal of the workshop was to educate attendees about recent gun laws and their impact on venue operations.
Ingoglia opened the workshop with select research findings from the "Firearms in the Venue Study" by VenueDataSource. For example, 66 percent of states have permissive open carry laws, 41 percent of venues that serve alcohol on premises in a state that prohibits open carry are still compelled to allow open carry, and 33 percent of venues have had to increase security due to open carry. The full presentation will be shared on Sunday, July 24, during a Fireside Chat in booth #1347 from 1:10-1:30 p.m.
Following the study presentation, panelists shared their experiences dealing with gun laws.
"Depending on where in Texas, for example, the law is interpreted differently," Read said. "And it will take a long time and legislation to fix the law."
Many workshop attendees also shared their thoughts and experiences about the gun laws.
"If it's important enough for NFL fans, it should be important for fans of Disney on Ice," said Sherman Bass, CFE, general manager of the Amarillo Civic Center Complex in Texas, comparing how sporting events are excluded from open carry laws compared to other events.
David Causton, regional vice president of the SMG Convention Center Division and general manager of McCormick Place in Chicago, suggested that IAVM help define what a venue is.
"We should work with other coalitions to help the venues be excluded," Causton said. "We should advocate for a certain security designation."
IAVM's Industry Affairs Council is currently working on a position statement regarding the new laws and public venues, and it welcomes member input.
Herrera closed out the workshop by reminding attendees to be very strategic on how they manage their events.
"You need to profile," Herrera said. "Not people, but behavior. Encourage frontline staff to be aware of unusual behavior."
(Images: Bruce Challgren)