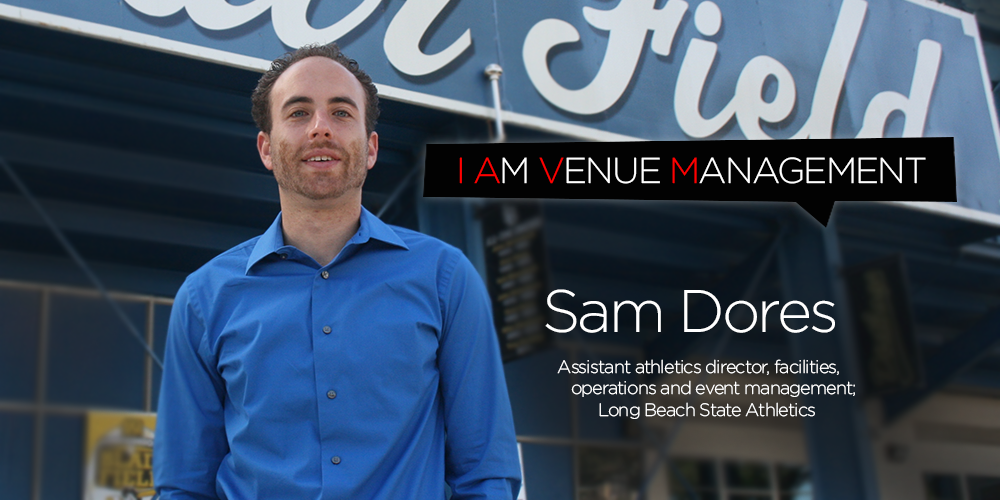 You, as an IAVM member, are our most important asset. Without your commitment to the association and to the venue management industry, we wouldn't be here. Because of your support, we are featuring member profiles in our I Am Venue Management series. If you are interested in participating in the I Am Venue Management series, please visit http://www.iavm.org/i-am-venue-management-share-your-story.
If I wasn't doing this I'd be a: musician. I started playing when I was a kid and still enjoy playing and listening to music as well as going to concerts.
Most impressive person I've ever met: My parents. They've always been my biggest supporters and have continued to inspire me every day.
I unwind by: spending time with my better half. She and I enjoy traveling, cooking, trying new beers, going to concerts, and hanging out with friends.
On my desk right now is: mostly an organized chaos of papers, files, and Post-it notes as well as a handful of random keepsakes—a Petco Park replica stadium, a few bobbleheads, an original piece of our floor, and a Wheel of Fortune piece signed by Vanna White!
My favorite IAVM program I ever attended was: I have a feeling it's going to be this year's upcoming Venue Management School (VMS). I'm looking forward to learning from some of the best in the business, sharing best practices, and meeting colleagues from all types of venues.
One trait an up-and-coming venue manager should have is: be active, be involved, and be eager to learn. Do the Mentor Connector Program, join one of IAVM's committees, follow venues and venue managers on social media, and read and stay up-to-date on news and trends. There are a lot of easy ways to gain knowledge and experience that don't cost a lot of time or money!
One of my goals for this year is to: continue to enhance our safety and emergency response protocols and to stay up-to-date with the ever-changing security landscape.
How do you stay current with industry trends and developments? I read a lot! I read and learn from FM magazine and the conversations on VenueNet as well as online blogs and articles. One can learn a lot simply by reading about how other venues put on events, go through renovations, create customer service successes, or handle day-to-day operations.
Who are three people you'd invite to a dinner party and why? The first would be John Wooden so I could pick his brain on leadership and UCLA basketball (go Bruins!). The other two would be John Lennon and Ted Williams so I could listen to their amazing stories about music and sports.
Sam Dores is assistant athletics director, facilities, operations, and event management at Long Beach State Athletics.