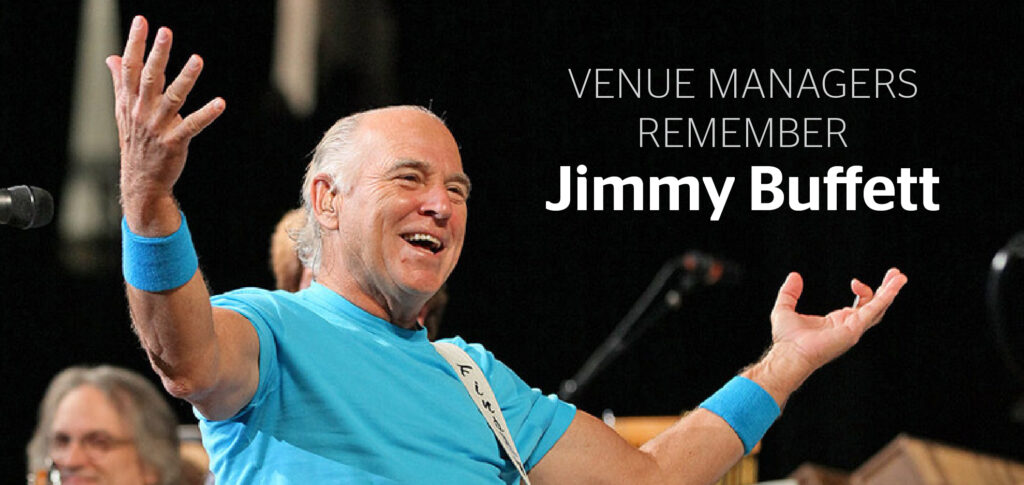 "If you had a Buffett date, you just couldn't get the happy off your face," said Russ Simons, Venue Solutions Group.
Jerry MacDonald, president and CEO, Cynthia Woods Mitchell Pavilion, The Woodlands, Texas, lost an anchor tenant when the legendary lifestyle singer/songwriter Jimmy Buffett passed away Sept. 1.
MacDonald, a member of IAVM for 47 years and in the business for 48, booked Buffett in all six buildings he has managed (Lakeland, Daytona Beach, Miami, Memphis and Houston's Summit), but most frequently at the Pavilion. Buffett holds the record for the most plays — 25 performances there, including in the opening year, 1990.
"From a building standpoint, there are some shows you want to play every year," MacDonald said. "That helped our food and beverage per cap, season ticket sales, box seat sales. Dave Matthews, Santana, Earth Wind and Fire, are also anchor plays. Buffet always helped sell season tickets and box seat sales. It was important."
Buffett always preferred outdoor dates, much to the chagrin of Parrothead Lee Zeidman, Crypto.com Arena, Los Angeles, who strived but failed to book Buffett. "He's never played any of my venues even though I threw out numerous offers. If there was one act in my 40-year career I regretfully failed to book, it's Jimmy Buffett. As hard as I tried, working everybody I knew."
Like many in the venue industry, Zeidman posted a great tribute to Buffett on social media, LinkedIn in his case. "I'm a Parrothead. I saw him numerous times at the MGM in Vegas. I bumped into him backstage because I had some access. I told him I would turn LA. Live into Margaritaville and our event deck into a tailgate area – whatever he wanted. He said, 'You've got to talk to Howard [Kaufman] and Irving [Azoff].'"
"Since I'm a Parrothead. I was devastated over the weekend. Buffett was one of my all-time favorite artists, singer/songwriters. To some extent, you could say I sort of patterned my lifestyle — beaches, bars and harbors — around what he did," Zeidman said.
There are several Parrotheads (Jimmy Buffett fans) in the ranks of venue managers, perhaps none more so than Nick Zazal, CVP, Walmart AMP, Rogers, Ark.
"For me, it was a really big day [when Jimmy Buffett finally played Walmart AMP June 9, 2022]. I've seen him 16 times in concert. Those are some of the best memories of my life," Zazal said.
Hosting Buffett, booked through Live Nation, meant coordinating with the local Parrothead Club to accommodate tailgating. That club includes a group called Fin Men, for the four-foot tall shark fin hats they wear, Zazal said. "The Fin Men all gathered at the concert here in Northwest Arkansas because most of them are from this region. It was the largest gathering of the Fin Men ever. When they played the big hits, the Fin Men would parade down the aisle. It was a sight to see," Zazal said.
Even though his is an outdoor venue, Buffett's tour was a logistical challenge because Walmart AMP is landlocked, surrounded by office buildings with which they share parking use agreements. They had to find a remote shopping mall on the other side of the river for the tailgate contingent, a big part of the Buffett festival experience. Then they had to shuttle them to the show.
"The thing about Parrotheads, and why I love them so much, is they make the best of everything. They were going to find each other and have a party no matter where we put them," Zazal said.
Zazal will always treasure the "first and only time I got to host Jimmy." The tour was still pretty locked down in terms of the Covid Bubble around Jimmy, with no meet and greets. As much as he wanted to, Zazal didn't do any presentations of gifts, respecting the bubble, thinking "I'll get him next time.They were fully intending to come back because they had such a good time."
He does, however, have a gift of his own to remember the show — a Margarataville Frozen Concoction Blender —which he received in the mail a month after the show.
"It's the only gift I've ever gotten from a tour," Zazal said.
Coordinating with the local fan club, the Parrotheads, is critical to a Buffet tour. For Michael Marion, CVE, Simmons Bank Arena, North Little Rock, Ark., advancing a Buffet date had added dimensions.
"The mayor at the time of North Little Rock was a Parrothead. Normally, when we do a show, we meet internally and the director of event services interacts with the local police. But for Jimmy Buffett, we had a meeting in City Hall with all the department heads. It was a major away-from-the-building operation in terms of making room for these people, organizing them. The city had to handle that because it's not on our property. Our building is right on the Arkansas River. Right down the street is the River Wall (flood wall), that's where we put 'em all. We set it aside for the Parrotheads."
Buffett dates bring a colorful crowd, everyone wearing a Hawaiian shirt. Backstage, it's a straight ahead operation, not real eventful, said Marion, who managed to book Buffet twice in his long arena career.
"We were supposed to do him three times, but the show scheduled for December, got snowed in in Tulsa and he couldn't get here," Marion remembers. "We had to cancel the show. Everyone was here, ready to go. Jimmy did a video on YouTube saying 'well, so much for the winter tour.'"
For the longest time Buffett did nothing but outdoor dates. Finally they decided to come back inside, so it was a big, big, big deal in North Little Rock, Marion said. His first play there was March 1, 2012. He came back June 6, 2019. "We had our hand up a long time to get [a Buffet date]," Marion said.
"I can't believe I got something Lee Zeidman didn't get and I did it twice," Marion chortled.
Allen Johnson, chief venues officer, Orlando Venues, first booked Buffett when he was in West Palm Beach in the mid-80's, though he did work a Buffett date as a ticket seller at Camping World Stadium, Orlando, in 1979. That year, Buffett opened for the Eagles Hotel California tour, he recalled.
When he managed the Lakeland (Fla.) Civic Center, the tour rehearsed there for a week because they had added a new back-up singer.
"My favorite show would be April 14, 2018, a double bill at the [Camping World] stadium with Jimmy Buffett first and the Eagles second. It's one of my top five for sure, Even though I was working and I had 45,000-plus of my closest friends around me, it was memorable. It was a typical Buffett show with everyone dressed in Hawaiian/casual shirts and when the Eagles came on, they shifted into laid-back Eagles mode."
He also booked Buffett at the Amway Center arena, which made tailgating a challenge. "We roped off Division Street and sold parking spaces for RVs, and even a trailer and boat. We also had Margaritaville on the street and on the top floor of our parking garage. His shows always had a tailgate experience, from sitting around vehicles to venues setting up Margaritaville pre-parties."
You had to involve the local Parrothead Club, because they were going to do something, and you wanted to make sure you did it together so it had some sort of organization to it, Johnson said.
They had a history of closing the street in front of the arena for Orlando Magic games, which led to the RV parking idea. The arena concessionaire at the time, Levy, wanted to plan the rooftop party to capture early sales opportunities.
On a Buffett show, you also knew food and drink would do well.
One Buffett memory that will always stick with Simons is the excitement displayed by Chris Reynolds, his number two in food service for Delaware North when he had booked Buffett at Bridgestone Arena in Nashville.
Reynolds had done a lot of due diligence advancing the date. "He made (and I'm probably overstating this) 50 65-gallon garbage cans full of Margaritas. They were everywhere. His excitement was palatable to all of the rest of us," Simons said.
A Buffett date was certain to be great for building, staff, fans, and downtown. "We regularly do events; we're really good at them. But from anticipation to event to sheer exhaustion after the show, it was special," Simons said.
Buffet made sure of it. His concerts were festivals, and the supporting events went well beyond tailgating. He had his political causes. He was known for his "Save the Manatees" outreach in Florida, for one.
Day of show, he sent a specially designed golf cart with crew to video the day's tailgating parties, which became part of the live show video later that night.
He would do his Bing & Bong Show schtick on Margaritaville TV and Radio before each show, MacDonald recalled, interviewing various tour pros like Michael Utley or Mac McAnally or visiting celebrities, like J.J. Watt of the Texans. J.J. then played bongos on stage with Buffett. And every show was broadcast live.
"He has a connection here in the Woodlands, Coleman Sisson," MacDonald said. Sisson helped Buffett start Margaritaville Radio and TV. Their longtime relationship began when Sisson was an IT guy with Compaq and Buffett needed tech help when he bought his first computer. He called Compaq, got Coleman and they became great friends. When Buffett made it big, he hired Sisson to do all his IT. Sisson came up with an idea how to broadcast and televise Buffett's shows every night. And Sisson lives in the Woodlands.
"When I was in Miami, Buffett had courtside season tickets to the Miami Heat; we gave him a special parking place," MacDonald said of his long history with the legend. "He would fly up from Key West.
"One year, when I was in Houston, Buffett got a little excited at a Miami Heat game in Miami and the referee threw him out. We had him booked a week or two later in Houston [at the Summit].
"When he came here, I presented him with an official NBA referee jersey, might even have had the number of the guy who threw him out. He put that on and wore it the whole afternoon."
Someone gives someone a blender. Someone gives someone an NBA referee's jersey.
It's a relationship business, top to bottom. That always fun relationship with Jimmy Buffett will be greatly missed by venue managers worldwide.
As Zeidman says, "It's just a major loss."