By R.V. Baugus
The cover page of the September 2022 Manage HR Magazine "Learning and Development Issue" features Venue Solutions Group's Advantage Training and their revolutionary approach to impacting employee engagement and production. VSG Advantage Training was named Top Emerging Learning and Development Services Company by HR Magazine's editors and readers and duly recognized in the feature article.
You might also recognize the charming face on the cover as that of Richard Andersen, CVE, VSG Chief Illuminations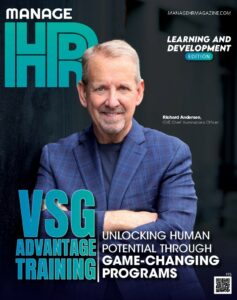 Officer and a Past IAVM President (Chair). As our good friend shared, the profile is one that will "help our industry see as a group we are all making an impact even outside of the venue management world." Andersen, along with fellow training partner Russ Simons, VSG Chief Listening Officer and Managing Partner, bring decades of experience, motivation, and philosophy to their approach of first understanding and then meeting client needs.
Indeed, our members are making such an impact, and it begins with organizations such as Venue Solutions Group and their Advantage Training that delivers leading-edge programming covering a comprehensive list of organizational needs, helping create meaningful change through rich "aha moments." Participants are engaged through the latest in adult education techniques, customized activities, and real-life examples.
To give you an idea of the success of the program, VSG Advantage Training earned top honors in the 2022 list of Top Emerging Learning and Development Services Companies recognized by Manage HR Magazine.
The lead-up to the article notes that Andersen "encourages readers, just like he encourages his clients, to see the power of human potential and the opportunity to positively impact lives and organizational culture through VSGAT's unique approach to training."
"Central to Andersen and Simons' approach for VSG Advantage Training's game-changing programs was to build their model on the best materials available, while incorporating the latest in adult education techniques," the magazine added. "Backed by their industry knowledge, their work is largely focused on illuminating human potential and inspiring program participants to achieve excellence by equipping people with the tools they need to grow. Patrick Scanlon, Vice President of Guest Experience for the Cleveland Cavaliers and Rock Entertainment Group summed it up best. 'The VSG approach was simply a great learning session for ALL involved and quite frankly a game-changer for me.'"
"We love building around self-discovery, the Confucius approach of 'tell me and I forget, show me and I remember, let me do and I understand,'" Andersen said.
Congratulations Richard and Russ! To read the article, click here.