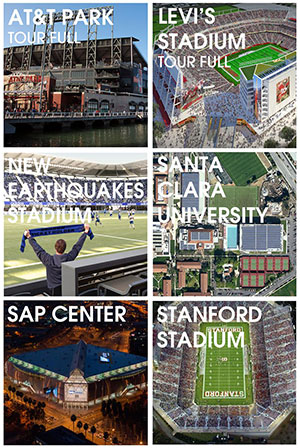 The 4th annual Green Sports Alliance Summit will be held in the tech capital of the world—the San Francisco Bay area! The conference will take place July 21-23 in Santa Clara, California.
The Green Sports Alliance is a non-profit organization with a mission to help sports teams, venues, and leagues enhance their environmental performance. Alliance members currently represent over 240 sports teams and venues from 20 different sports leagues.
The Green Sports Alliance Summit serves as a platform for the sports community to unite around sustainability—bringing together more than 600 industry stakeholders to learn from 80-plus leaders and engage their peers in meaningful dialogue around better environmental practices and proven solutions that help advance the green sports movement. The 2014 program will cover the day's most critical topics in professional and collegiate sports greening and includes topics such as existing building renovations, composting programs, onsite energy generation, creating community legacies, marketing and sponsorship, athlete engagement, sustainability reporting, and much more. Sports and sustainability leaders will drive the conversations as we explore better environmental practices and proven solutions that will continue to advance the green sports movement.
Highlighted speakers of the 2014 Summit include
• Darryl Benge | Arena General Manager, Tampa Bay Lightning
• Chris Granger | President, Sacramento Kings
• Dave Kaval | Club President, San Jose Earthquakes
• Paul Hanlon | Director of Facility Operations, MLB
• Derek Hillestad | Director of Operations, TCF Bank Stadium
• Chris McGowan | President & CEO, Portland Trail Blazers
• Rich Mylin | Associate Director Facility and Event Operations, UCLA
• Bill Pottorff | Vice President, Engineering, AEG STAPLES Center & Nokia Theatre
As an event highlight, 2014 Summit attendees will have the unique opportunity to get an insider's look at some of the Bay Area's new and iconic pro and collegiate sports venues during private guided tours on Monday, July 21.
The 2014 Green Sports Alliance Summit is a great opportunity to connect with industry stakeholders for three empowered days of learning and sharing to help advance the green sports movement.
Members of IAVM: Register today with the promo code IAVM to save $50 on tickets!
In addition to visiting the website, you can learn more about the 2014 Green Sports Alliance by following event-related discussions on Twitter: @sportsalliance and #GreenSports.