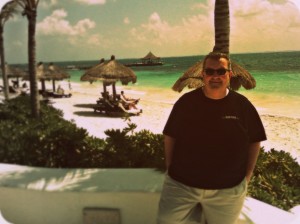 This year's VenueConnect (in my humble opinion) is going to ROCK THE HOUSE! After all as Venue Professionals you've got to appreciate one fact, this year's meeting is set against a backdrop of 23 miles of beautiful sand beaches, ocean waves and tropical breezes. I can't think of a better way to reconnect with colleagues, learn and do business.
If you're thinking that VenueConnect 2012 is going to be the same old, same old – then think again!
Start with golf or sport fishing to benefit the IAVM Foundation!
If you've always wanted to help the IAVM Foundation raise some money and you're not a golfer like me, we've added an opportunity for you! Taking advantage of our coastal location, we've added a sport fishing tournament to kick off the conference on Saturday. Sign up early for this one!
A Conference concentrated into one long weekend!
I heard you loud and clear – VenueConnect was too long!!!! We've taken a week-long conference and turned it in to four days of concentrated networking, knowledge building, productivity boosting, skill sharpening and aha-moments!
With more than 28 hours of educational sessions, early morning and late night networking opportunities, plenty of time for fun at the reimagined Trade Show Opening & Reception and the new Fun Night on the beach, you'll go home with ways to bring the results your venue needs. An open night will allow you to explore Fort Lauderdale or reconnect with friends and colleagues.
New educational tracks mean that purchasing and operations teams; marketing professionals and event planners; finance and accounting departments will all find pertinent programming. And let's not forget about our can't miss Women in Leadership program! Whether you're male or female, there is so much to gain from speaker Dr. Valerie Young.
You'll also bring business home. New activities on the trade show floor will connect you with agents and promoters. Who doesn't need an extra event to bring in revenue for your venue?
Now more affordable for you to register more than two people from your venue.
This year, for every two venue managers you send, you can send another person for 50% off! This is such a good deal that I'm bringing our Director of Operations as well as our Director of Booking. Plus, don't forget to bring your young professional members who get in at half off! Can this get any better?
Be there! It's at the beach, people!
VenueConnect is all new and ready just for you. Sign up now! Oh and by the way … Flip Flops are optional.