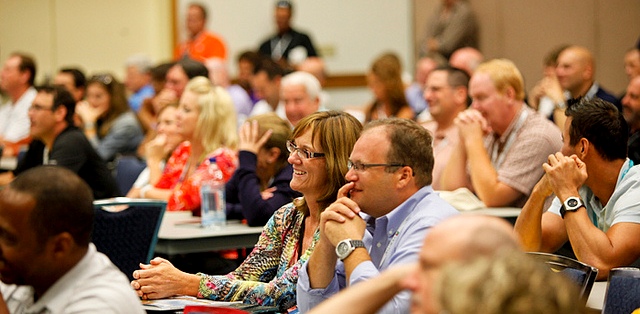 Make your plans for VenueConnect on July 27-30, 2013 in New Orleans! Here are the Top 5 Links you'll need to finalize your trip and the Top 5 Reasons to Attend. See you soon!
Top 5 Links
Register for VenueConnect here! Pay with a credit card or receive a purchase order, whichever works best for your organization.
Apply for DirectConnect, IAVM's new appointment program launching at VenueConnect. It only takes 10-15 minutes to apply, and if you qualify, you'll attend the conference for FREE and take care of all of your venue's purchasing needs in one place! Apply by Thursday, June 27.
Book your hotel room at a special rate. Hotel cut-off is July 5, so don't delay. Take advantage of other travel discounts on this page, too!
Sign up for the IAVM Foundation Golf Tournament, presented by MillerCoors, or the IAVM Foundation Cooking School, presented by Sodexo. Space is limited so secure your spot soon.
Watch this VenueConnect 2013 video to preview the incomparable experience you'll have at the premier conference for venue professionals!
Top 5 Reasons to Attend
New Orleans. This dynamic annual conference for venue professionals is set in the legendary city of New Orleans – with a culture like no other – cuisine, music, entertainment and high spirits are around every corner.
Fresh Ideas. Discover inspiration only found at VenueConnect! Hear actor, humanitarian and NOLA-born-and-raised, Wendell Pierce deliver a powerful keynote address about culture and community, and their roles as part of the human experience.
Innovation. Experience information-packed educational sessions including: Crowded Markets for Public Venues; Mission Critical: Creating Goal–Oriented Vendor Partnerships; The Mobile Movement; and New Venue Design & Construction. Then take tours of renowned local venues and see some of the country's most innovative facilities.
Unmatched Connections. Reconnect with long-time peers and network with new venue professionals at IAVM's Foundation Golf Tournament or join the fun- and food-filled Foundation Cooking School. Attend town halls and meetings to stay up-to-date on sector, Association or regional affairs, and meet with the dozens of other professionals in attendance that have goals and concerns similar to yours.

High Spirits. What happens when VenueConnect and New Orleans converge? A super-charged, kinetic experience occurs! Attend a variety of receptions to network and enjoy refreshments and great entertainment. Be dazzled by the 2-day trade show – It's certain to be the most high-spirited, entertaining and engaging trade show you've ever attended! Finally, don't miss the Closing Night Celebration … it will be the perfect ending to an experience like no other – VenueConnect.