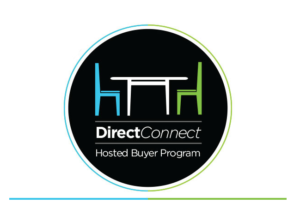 Like most members who came to VenueConnect on Sunday, Ross Girouard started his morning with DirectConnect.
"It's a good time to sit down and get undisrupted face-time with a response," said Ross Girouard, Director of Operations and Productions of Allen Event Center.
DirectConnect Hosted Buyer Program is an opportunity that connects venue professionals with vendors. Members attending the event walk into an open conference room in the Omni Nashville Hotel for ten (10) brief, one-on-one appointments with companies that are ready help venue professionals with their upcoming projects.
Sunday was Girouard's first DirectConnect experience. He's hoping to help the center stay competitive and create exciting opportunities for their consumers. He's looking to make small renovations, replace inventory, and make some cosmetic changes to the venue, but also hoping to find new products that would help create more opportunities.
Girouard heard about DirectConnect while he was at Venue Management School (VMS),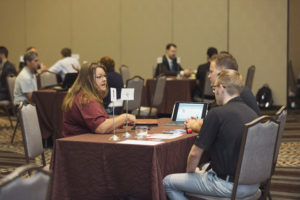 where he met Tori Morgensai, a Production Manger from the Englert Theatre in Iowa City, Iowa. Morgensai is looking to make "large renovations" to the Englert Theatre and came to DirectConnect to learn about renovation and restoration techniques, as well as the vendors who can help preserve the historical building.
Amanda Bakkedahl, a Marketing and Sales Manager for the Bismarck Event Center in Bismarck, North Dakota, is hoping to learn more about the industry's standards and how to boost her venue's overall fan experience. Being new to the program, DirectConnect was recommended to her by her supervisor, a long time attendee of IAVM conferences.
Jim Barbatti and Becky Vetter came VenueConnect to represent the Show Me Center for Southeast Missouri State University and hope to find vendors that meet their specific needs. The thirty-year old venue is needing to update its technology, so the pair came to DirectConnect to find vendors that can meet their needs. Baratti, Assistant Director of the Show Me Center, was eager to meet face-to-face with vendors and reintroduce himself to vendors the Center has worked with in the past.
"We're looking to buy soon," said Baratti. He's anxious to get involved with vendors here at DirectConnect to see what options are available. For Vetter, Business Manager of the Show Me Center, this is her first time at VenueConnect and interested in seeing what the conference has to offer. She's excited for the Trade Show, specifically focusing on "vendors who provide POS systems".