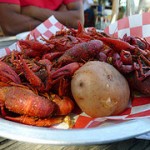 When you return home following VenueConnect in New Orleans, we have absolutely no doubt that you will be returning to the job a smarter, more enlightened and knowledgeable professional thanks to all the excellent education programming awaiting you at the Ernest N. Morial Convention Center.
We don't want to take too much credit, however, if you return home tipping the scales at slightly more than when you arrived at VenueConnect. But, hey, it is New Orleans, and when it comes to food one can be tempted for some out-of-the-world cuisine on just about every street corner.
As a matter of fact, we are going to make sure you get your New Orleans experience off on the right foot as one of the first scheduled events will be the IAVM Foundation Cooking School, presented by Sodexo, on Friday, July 26 from 10 am until 2 pm at the New Orleans School of Cooking.
You will join others for a hands-on demonstration in small groups with a cooking competition with an awards luncheon to follow the group presentations.
Those who attended the last VenueConnect in New Orleans in 2003 might well remember the Cookin' in the Quarter tour. It was a fitting occasion marking the 2002-03 presidential year of Joe Floreano, CFE, an accomplished and distinguished chef in his own right.
New Orleans is more than about the obvious of the charbroiled oysters at Drago's Seafood Restaurant or the beignets at Café du Monde, although those are also stops on just about everyone's list.
"In America, there might be better gastronomic destinations than New Orleans, but there is no place more uniquely wonderful."
We like what the Travel Channel's Anthony Bourdain has to say about dining in New Orleans: In America, there might be better gastronomic destinations than New Orleans, but there is no place more uniquely wonderful. So I would say New Orleans. With the best restaurants in New York, you'll find something similar to it in Paris or Copenhagen or Chicago. But there is no place like New Orleans. So it's a must see city because there's no explaining it, no describing it. You can't compare it to anything. So, far and away, New Orleans.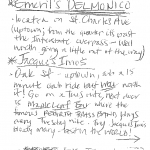 Sold? We are. And if you are looking for recommendations from the locals, maybe you will have the good fortune of Christy Jacobs, IAVM's director of marketplace sales, who upon a site visit to the city was handed a handwritten list of must-taste local cuisine by the bartender at Galatoire's Restaurant.
It's fine for Anthony Bourdain and local bartenders to have their lists, but we want to know what is on YOUR list. Drop an email to lauren.kubicki@iavm.org and we'll be sure to help spread the word … if not spread your waistline.
Oh, and if you are not yet signed up for VenueConnect, what are you now really waiting for? Go here to take care of that important piece of business, and we'll see you in just over three weeks.
Thanks to IAVM member Todd Hunt, Executive Director of the BancorpSouth Arena and Conference Center, for sending in his must-eat places when in NOLA: Café Maspero on Decatur for lunch/dinner and of course Café Du Monde for their world famous beignets. We can't wait to try them, Todd!
photo credit: hollywoodsmile78 via photopin cc