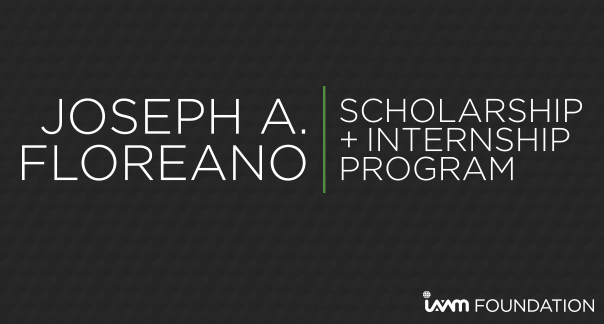 The International Association of Venue Managers Foundation announces a US$50,000 fundraising initiative backed by Steve Peters, CFE, and VenuWorks to support the Joseph A. Floreano Scholarship + Internship Program. The initiative will help fund 38 scholarships + internships to IAVM sector meetings, schools, and VenueConnect each year.
The Foundation has been committed to programs, ideas, and initiatives that build amazing careers and a strong future for the industry for more than 32 years. It has bestowed more than 300 scholarships worth approximately $350,000.
Last July at VenueConnect in Portland, the Foundation continued this legacy by announcing its newest campaign, Build an Amazing Future. This campaign is a three-prong approach focused on students, young professionals, and mid-level management in the venue management industry.
The program was established after the passing of Joseph A. Floreano, CFE, a long-time IAVM member, Foundation Trustee, and the first-and-only Honorary Chairman of the Foundation Board of Trustees. Floreano was known for giving selflessly in both time and money to worthy industry causes. His leadership was aspirational, and he took great pride in mentoring and supporting the advancement in the development of the Foundation's Build an Amazing Future campaign but also became the inspiration as he truly resembled and embodied everything it stands for. The contributions Floreano made to the Foundation are immeasurable, and he will forever leave a mark on the Foundation.
This new fundraising initiative will include a $5,000 matching challenge from Steve Peters, CFE, and VenuWorks as part of a fundraising matching challenge to industry peers, community partners, and friends of Joe Floreano.
"Joe was a friend and a true leader in IAVM," said Peters, founder and president of VenuWorks. "It just feels right to honor him with a gift to the IAVM Foundation, which was and is dear to both of us. Joe believed in the Foundation and felt it was worthwhile of his efforts."
To date, 15 recipients have been positively impacted by the Joseph A. Floreano Scholarship + Internship Program through opportunities to attend IAVM's Performing Arts Managers Conference (PAMC), IAVM's Academy of Safety and Security (AVSS), and IAVM's Venue Management School at Oglebay (VMS) since the program launched in 2015.
To join this fundraising initiative, you can make your donation by visiting www.classy.org/scholarships.