By Erin Goldmeier
The Virginia Beach Convention Center (VBCC) was recently presented with a 2020 Leadership Award by the U.S. Green Building Council Virginia Chapter (USGBC VA). These prestigious awards recognize Virginia building owners and project teams for their extra effort to accomplish Leadership in Energy and Environmental Design (LEED) certification, and celebrate the local leaders who are working to create a healthier, more sustainable and more resilient future for all in the Commonwealth.
As an organization, the VBCC was recognized for its accomplishments in the community and sharing the knowledge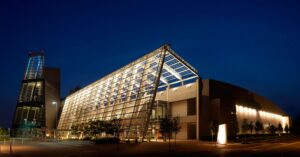 they attained through LEED certification with the hospitality and tourism community. Staff has shared best practices in recycling, composting and energy efficiency, highlighting the economic and environmental benefits of sustainability.
"We are honored to have received this award. It truly is a testament to our ongoing dedication to sustainable practices and good stewardship of public dollars," said Bryan Miller, Assistant General Manager for the VBCC.
The VBCC was the nation's first convention center to earn LEED Gold certification as an existing building in 2010. As is required, the VBCC renewed certification in 2015 and is currently seeking certification renewal using the new LEED Arc platform. The VBCC is also an active partner in the Commonwealth's Virginia Green program, which promotes sustainability in the tourism industry.
Erin Goldmeier is Director of Public Relations for Visit Virginia Beach.