Kevin Twohig, CFE, chief executive officer of the Spokane (WA) Public Facilities District, was given Visit Spokane's Leadership Excellence in Tourism award last Thursday.
The award honors "significant achievement and historically significant contribution by someone who has impacted Spokane's tourism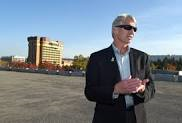 industry for more than 10 years." Visit Spokane's board of directors selects the recipient.
"Kevin's leadership for the last 40 years serving the Spokane region's hospitality community is impressive," said Cheryl Kilday, President and CEO at Visit Spokane. "Our board recognizes his hard work and dedication resulting in a significant impact on tourism to the region."
Twohig was honored at the group's annual meeting at the Davenport Grand.
Among his accomplishments:
•Strong leadership in the expansion of the Spokane Convention Center.
•Improvements to the Spokane Veterans Arena.
•Fostering partnerships with the Spokane Sports Commission.
Twohig has served in his capacity with the Spokane Public Facilities District since 2001.
Visit Spokane generates economic growth for Spokane County by successfully marketing the Spokane region as a preferred destination for conventions and leisure travelers from around the world. Visitors to Spokane County spent an estimated $995 million in 2016 providing jobs for more than 10,000 residents in the region.