Martha Shaker, chair of Dayton, Ohio's Victoria Theatre Association's Board of Trustees, announced the selection of Ty Sutton as VTA's new president and CEO. Sutton replaces retiring president and CEO Ken Neufeld.
Sutton joins VTA after three years as the inaugural executive director of the Butler Arts Center at Butler University. He brings more than 20 years of arts venue management experience, as well as extensive fundraising, marketing and programming knowledge to VTA. Sutton starts his new position Aug. 13.
"My philosophy has always been that the arts bring people together," Sutton said. "I am very impressed with the level of commitment and financial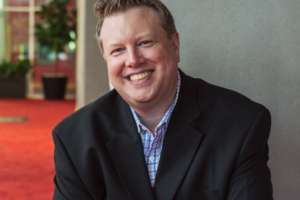 support the Dayton community has given the Dayton arts scene, especially in embracing Victoria Theatre Association's world-class facilities and arts programming. With the addition of the new Arts Annex, I believe our venues can accommodate any type of performance and allow us to grow the diversity of our shows while broadening our audiences. I am eager to lead an organization with such an outstanding record of success. Continuing to grow our offerings and making a positive impact in people's lives will be at the top of my priority list. Dayton will be a great place for my family to call home."
Sutton was chosen after a six-month international search, conducted by leading arts executive recruiting firm Management Consultants for the Arts. VTA Board of Trustees Vice-Chair Chris Wyse served as the chair of the six-member Search Committee.
"I am thrilled to welcome Ty as the new VTA President & CEO," Wyse said. "His ideas around the new Arts Annex are very progressive as are his thoughts on programming and diversity. These characteristics, combined with extensive experience and proven track record of growing performing arts centers, will ensure everyone in Dayton is able to experience the numerous offerings from VTA."