By Jody Lake, CVE
We all know we should "someday" take advantage of the many excellent opportunities IAVM has available to provide critical training in the areas of venue, patron, staff, guest, and vendor safety. How many times have we shared the deep emotions of hearing of our fellow colleagues' experiences with emergency situations that we feel so sorry for, but never think it will happen in our venues, to our guests, in our city, at this event, etc.?
After several years of knowing and understanding the need, our Utah Chapter recently accomplished this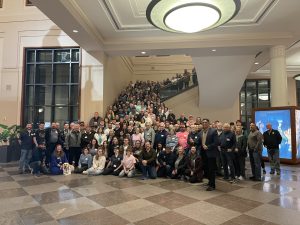 critical training by hosting Mark Herrera, Director of Safety and Security for IAVM. "It was one of the best things we could ever have done," said one experienced venue GM. Another attendee commented that, "it was nice to get re-motivated about our most important responsibility of keeping ourselves, our staffs, and our guests safe."
Taking advantage of Mark's time in Salt Lake City, we offered two sessions on the same one-day training opportunity. Our first morning session was geared towards full-time event and management staffs, while the second early-evening session welcomed those who also are vital participants in our emergency plans in their roles as ushers, ticket takers, first responders, back-of-house, front-of-house, and other critical event staffs. Our attendee numbers were impressive with 250 for the first session and approximately 300-plus for the second session.
Mark's training covers critical areas of Situational Awareness, De-escalation for front line teams, Active Threat/Active Shooter Preparedness, Building your Security Culture, and finishing with the NFPA required Trained Crowd Manager. He is a top-notch presenter with years of experience and as one participant commented, "We can relate to his training. He understands our world and issues of event management." Another commented, "Our world of event and facility management changes daily. Sometimes we get complacent in the important roles we all have. Mark helps us refocus on just how unexpected challenges can have huge consequences. He gives us the tools to mitigate those risks."
Leaders of today must be able to understand risk analysis, threat ideology, venue vulnerability, and change our mindsets from our comfortable roles of event management to what our guests are expecting, seeing, and experiencing. We need to know how to plan, prepare, respond, and recover. Do you? Does your staff? Take advantage of available training. It will be time well spent.
Jody Lake, CVE, is an IAVM Member Retired, Weber State University.