By R.V. Baugus
Many who read this are too young to remember that once upon a time when you went to fill your gas tank at the pump you had no option but to let an attendant do the job for you while you remained in your car. Crazy, huh?
OK, let's move this forward to get more of our reading audience on board but talking about how you can go to a bank and find a kiosk to make a deposit, withdrawal, or any other number of services. You can go to a grocery store and find self-checkout stations all over the place.
Well, in our venue professional world, the NFL Miami Dolphins became the first team in the league to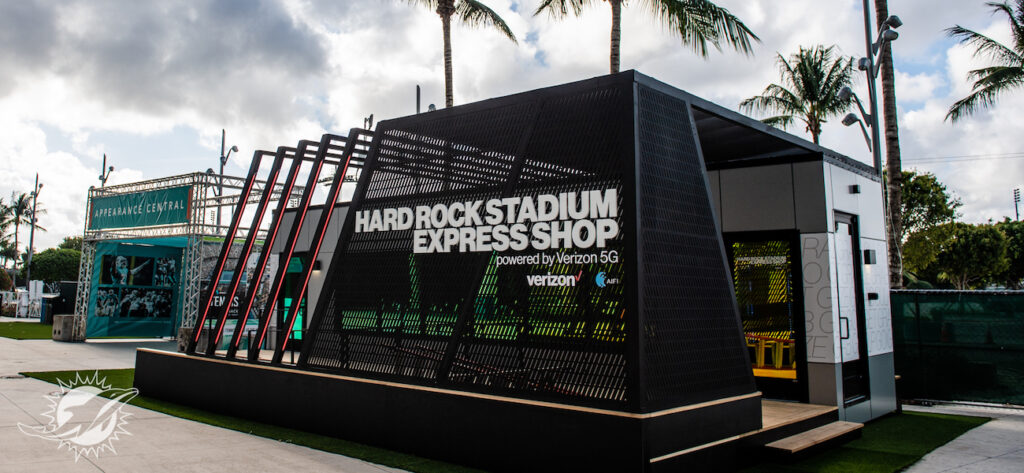 launch a self-checkout retail option for fans at its Hard Rock Stadium.
Unveiled on December 19, the Hard Rock Stadium Express Shop is an autonomous retail experience powered by Verizon's 5G self-checkout activation, offering supporters "grab and go" checkout options to purchase snacks, beverages, and merchandise in a fully autonomous and frictionless setting.
The Hard Rock Stadium Express Shop can function at any location in and around the stadium where Verizon's 5G Ultra Wideband network is available.
Fans can insert a credit card at the door and the Express Shop allows supporters to purchase products and walk out of the store. They will then be billed electronically and receive a receipt via email.
The Express Shop is available during all Dolphins homes games, as well as other events at the venue.
"As a global entertainment destination, we consistently look to implement experiences for our guests that exceed expectations in modernization and technology which are focal points in our partnership with Verizon," the Dolphins' senior vice president and chief revenue officer Jeremy Walle said.
"The Hard Rock Stadium Express Shop is at the forefront of future retail experiences, and we are excited to be the first NFL stadium to make this autonomous and free-standing concept available to fans."
The launch comes after the Dolphins entered into a partnership with Dell Technologies to expand the use of video for fan engagement, safety and security at Hard Rock Stadium.