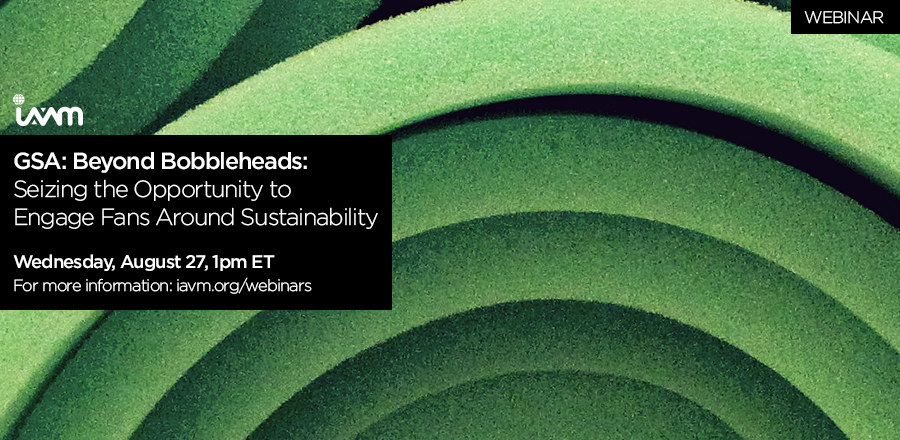 The Green Sports Alliance (GSA) will offer a free webinar for IAVM members on Wednesday, August 27, from noon-1 p.m. (CDT) on greening efforts and fan engagement.
"From the millions who attend sports events each year to the exponentially higher number who follow sports closely on TV and the Internet to still others who are simply casual observers, sports reaches into the lives of the vast majority of citizens,"  GSA said in a description about the webinar. "And while fan engagement impacts may be harder to track than a waste diversion rate, it is difficult to argue that the potential impact of influencing the attitudes and behavior of billions of followers around the globe is far higher. On top of that, fan engagement around environmental initiatives holds significant potential to drive revenue and attract new sponsorships as well."
The webinar agenda is as follows:
1. Dave Newport—Director, Environmental Center, University of Colorado & Board of Directors, Green Sports Alliance: Welcoming remarks and presenter introductions.
2. Steve Seiferheld—Senior Vice President, Turnkey Intelligence: Results of recent survey on sports and the environment, based on the responses of more than 1,000 self-identified sports fans.
3. Lisa Boaz—Senior Manager of Marketing & Advertising, St. Louis Rams: "Go Green" platform and other environmental fan engagement initiatives of this long-standing NFL franchise.
4. Matt Williams—Director, Office of Sustainability, University of Florida: Partnership between Gator Athletics, UF Sustainability and nonprofit Neutral Gator to offset Athletics' CO2 footprint while helping individual fans and the local community.
5. Discussion/Q&A