By R.V. Baugus
Not saying that Gary Smith and I go back a long ways, but when I began working at then IAAM in April of 1990, his Pollstar magazine was one that arrived weekly in the mail. Gary was one of the first people in the industry I remember calling on, most likely because he was a media guy as well as someone who basically knew everyone in the music and concert industry.
Yes, it was another time and another era, but through it all Gary Smith was the ultimate professional as a co-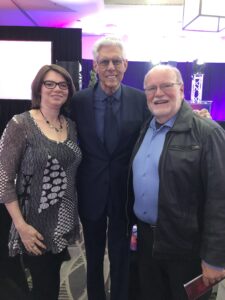 founder of Pollstar. Recently retired, Smith was honored at the TJ Martell Foundation's Spirit of Excellence Dinner along with manager Scott Rodger of Maverick (Paul McCartney, Andrea Bocelli and Shania Twain) and Dr. Deepa Bhojwani, Director of the Leukemia and Lymphoma Program at Children's Hospital Los Angeles at a fundraising event for the foundation's cancer research programs.
Smith teamed with Gary Bongiovanni to begin Pollstar. Both got their chops in the agent/promoter side of the business and had a new publication to begin covering that part of the industry. I remember well my own excitement in receiving Pollstar and seeing the dates and locations for concert acts from A to Z. Pollstar truly covered the show business.
The duo began their magazine in 1981 with a clear vision of what they wanted, and sure enough it not only bore fruition but lives on. Most publications arrive with a story behind their name, and Pollstar was no different. According to Smith, the first four letters stood for Promoters On Line Listings, with the word "star" tacked on a bit later.
As many IAVM members know, there are few things more exciting than attending Pollstar's annual conference, which brims with the biggest names in the business and always gives IAVM members an opportunity to do some serious networking for lining up concerts in their venues.
Congratulations on a career done well, Gary, and all the best in what the future brings to you!
Pictured: IAVM Chair Tammy Koolbeck, CVE, and Michael Marion, CVE, had an opportunity to celebrate Gary's Spirit of Excellence Dinner recognition.