By Lorianne Walker
WESS, a GardaWorld company and nationwide provider of event staffing and security services, announced its rebrand to BEST Crowd Management. BEST Crowd Management will carry the longstanding expertise and demonstrated success of WESS, providing guest services, gate management, perimeter protection, security response and field intrusion teams, access control, parking management, and executive protection and consulting services.
Who is BEST?
• Decades of experience providing world-class security solutions for crowd management solutions.
• Current partners include the country's largest stadiums professional sports teams, college sports teams, major concert venues, and convention centers for corporate events.
• Present in more than 27 markets and a growing footprint that reaches from California to Las Vegas, Florida and New York.
"The decision to rebrand follows from decades of experience and demonstrated success in providing the BEST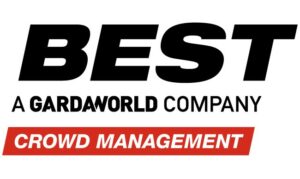 for our clients. It's time we updated our branding to reflect our standing," said Jeff Spoerndle, Vice
President of BEST Crowd Management.
Throughout the COVID-19 pandemic, BEST Crowd Management has demonstrated its leadership, flexibility and adaptability, introducing services including temperature screenings, social distancing supervision, capacity monitoring and vaccination checks.
"The COVID-19 pandemic has brought crowd management to the forefront," said Spoerndle. "Event staffing and security is no longer just about ticketing or physical security—it's about securing staff and guests from an invisible health threat. As a result, sports venues, corporate events, and even nontraditional event venues and organizations require a partner that brings highly-cultivated expertise with adaptable skill sets and services."
"We're proud to announce the rebranding of WESS to BEST Crowd Management Services," said Prentice Robertson, Chief Operating Officer, Security Services, U.S. at GardaWorld. "BEST represents the very core of the GardaWorld family, bringing energy, innovation and world-class expertise and resources to deliver highly customized security solutions."
To learn more about BEST Crowd Management and its services, visit https://best.garda.com/.
Lorianne Walker is with Abel Communications for GardaWorld.