What to Do When Things Go Wrong: A Five-Step Guide to Planning for and Surviving the Inevitable – and Coming Out Ahead, a new book by award-winning event producer Frank Supovitz, will be released by McGraw-Hill Education online and in bookstores on May 17, and available for download on Kindle on May 3, 2019. The book provides knowledge, insight, and prescriptive techniques to help business leaders and project managers navigate through crises large and small.
"We learn more from the things that go wrong than things that go right," said Supovitz, CEO of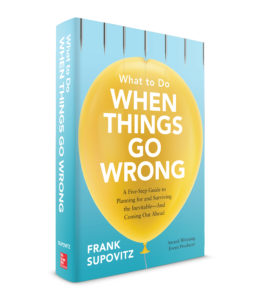 Fast Traffic, an event management and consulting firm based in New York. "But, it's a whole lot better to learn from the things that went wrong for someone else!" The book was inspired by the popular live program of the same name that Supovitz has presented to a wide range of companies, associations, and trade organizations since 2014.
Supovitz, who served more than 20 years combined as the head of events for the National Hockey League and National Football League, shares best practices for crisis management drawn from memorable stories and case studies based on his own challenges, as well as those faced by others in a variety of businesses and situations. Among the most recognizable and revealing stories explored in the book was his management of the team responsible for recovery during the Super Bowl Blackout. Award-winning correspondent Armen Keteyian, who was with Supovitz as a camera crew from 60 Minutes Sports captured the behind-the-scenes story of the blackout, wrote the foreword for What to Do When Things Go Wrong.
What to Do When Things Go Wrong provides the knowledge and insight needed to navigate through any problem. It shows how to think through the five stages of working through every project: Imagine, Prepare, Execute, Respond, and Evaluate.
Executives, managers, and personalities with exhaustive experience in managing tough situations have lavished praised What to Do When Things Go Wrong:
"Together we've been through countless political campaigns, The White House, and raising two daughters. Each had its unique challenges. We wish we would've had this book through it all. It's genuinely applicable for every conceivable crisis; how to manage them, but more importantly, how to avoid them." – James Carville & Mary Matalin
"In governing, managing major projects, and life, things will inevitably go wrong. Those best prepared for adjusting to the unexpected can not only recover but come out ahead. Very few people understand this better than Frank Supovitz. I watched first-hand how he handled major events like the Super Bowl and found this book to be a great entry point for people in business, event planning, or even politics." – Mitch Landrieu, Mayor of New Orleans, 2010-2018
"Supovitz's breezy, personable, and often provocative storytelling style brings to life the more sobering and valuable lessons of avoiding and planning for crises, and then managing them when they happen anyway. What to Do When Things Go Wrong is a necessary read for anyone managing projects or people." – Paul Tagliabue, NFL Commissioner, 1989-2006
"To you, Super Bowl Sunday may be a chance to gorge on guacamole. To Frank Supovitz, the Big Game is 1,327 disasters waiting to happen. In What to Do When Things Go Wrong, the NFL's former Super Bowl Czar takes you behind the scenes at the world's biggest sporting event. You get to laugh at Frank's stories, learn from his mistakes, and most of all, develop the planning and management skills that will help you keep your next looming disaster at bay." – Allen St. John, award-winning journalist and New York Times best-selling author of Newton's Football and The Billion Dollar Game
Frank Supovitz previously wrote The Sports Event Management & Marketing Playbook (Wiley), the definitive go-to text used by professionals and top sport business university programs for more than a decade.
What to Do When Things Go Wrong is currently available for pre-order on Amazon.com, bn.com, and other book retailers.
For more information on What to Do When Things Go Wrong, or to contact Frank Supovitz at Fast Traffic, please email info@fasttrafficevents.com.