By R.V. Baugus
We are on the fast track toward two of the biggest family holidays of the year in Thanksgiving and Christmas. I know this because as a leader at our church of a 13-week Grief Share class designed to help people through the grief of having a loved one die, we will have a two-hour class on November 17 called Surviving the Holidays, which as the name implies is equipped to help people through the often lonely and depressing holiday season that so many suffer through.
It is also a time of season when stories abound from our member venues about what they are doing to help those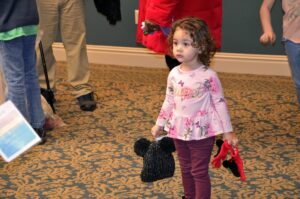 less fortunate. For example, the Saint Charles (MO) Convention Center and a local Chick-fil-A are partnering to host a collection drive for those in need.
The premise is simple for donors: Earn a free Chick-fil-A menu item when you donate winter clothing or personal care items at the O'Fallon restaurant on November 16. Winter clothing and personal care items collected at the restaurant are then distributed on December 12 at the convention center at the 12th annual Helping Hands for the Holidays event.
The venue shared the story of Tracy, who attended the event last year and went on to make a phone call to thank all of the staff and volunteers who helped organize the event.
"I felt so welcome," Tracy said. "Everyone who was there was so pleasant and showed that they were really there because they cared. It really touched my heart that the convention center is so willing to share with the community. Sometimes people think that everyone that lives in St. Charles is rich, when that is not the case. Thank you so much."
Helping Hands for the Holidays, produced by the St. Charles Convention Center and We Love St. Charles, exists to assist those in need by providing a FREE unforgettable holiday experience. More than 1,600 men, women and children gather each year to receive a warm holiday meal, winter clothing and personal care item giveaways, access to community resources, health services and screenings, activities for children, photos with Santa and more.
We know this is but one example of what our members do to serve their community during the holiday season. If you have a story to share about the difference you are making in your community, please let us know so we can share the good news.