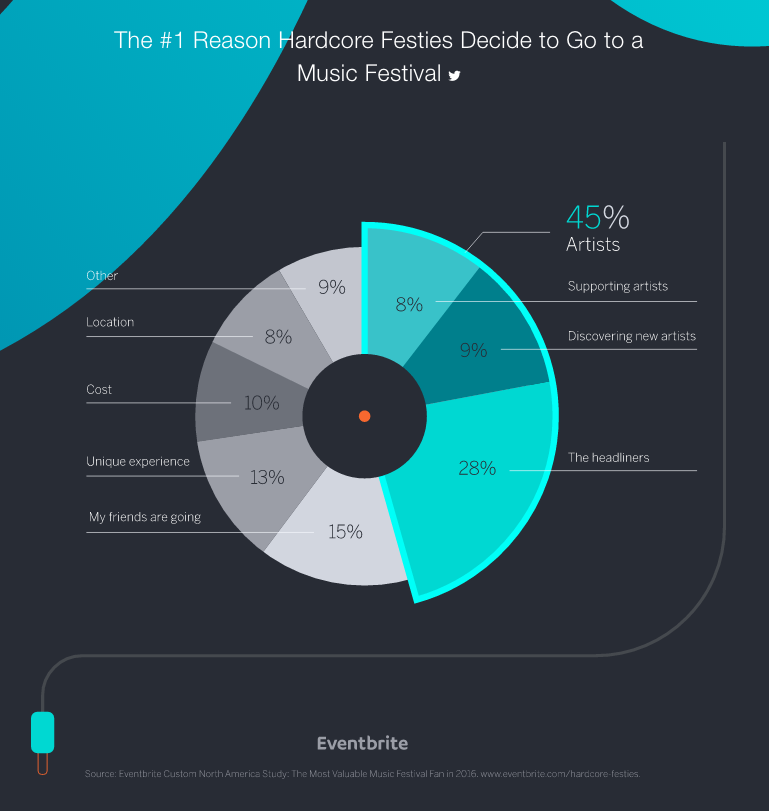 Eventbrite recently asked: Are we at the apex of music festival popularity or is it still growing? That's a good question, so the ticketing platform worked with MusicWatch Inc. to survey more than 1,000 North American 18-to-49-year-olds who attended at least one music festival in the last year to better understand their habits and preferences.
"We uncovered a range of insights around how much people are spending and why they're attending," Eventbrite wrote in its report. "We also learned that despite industry speculation, demand for music festivals is still strong: nearly 40 percent of festival attendees said they went to more music festivals this year compared to last year (41 percent attended the same amount), and over half plan to attend even more festivals next year."
The company discovered that hardcore festies—while only 20 percent of festival attendees—account for almost 80 percent of revenue.
"Hardcore festies are not only attending more events overall, they're also more valuable to each festival: they're spending $91 (or 78 percent) more on a typical festival ticket compared to casual festies, and often attend their favorite festivals many times," Eventbrite reported. "In fact, hardcore festies outrank casual festies in VIP purchasing, social influence, and virtually every other aspect of spending, attendance, and engagement."
The full report, "Hardcore Festies: The Driving Force Behind Today's Growth in Music Festivals," is available to read on Eventbrite's website.
(Image: Eventbrite)