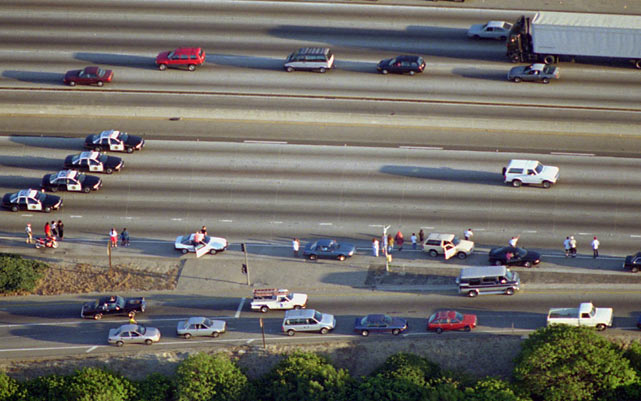 It was 20 years ago today that a nation watched a white Bronco SUV drive up, down, and around L.A. freeways. O.J. Simpson was in the vehicle, and the former football standout was wanted by the police for questioning in a double murder. It was gripping television, as O.J. sat in the back of the Bronco with a gun in his hand, leaving many wondering if it would all end tragically.
The police chase wasn't the only thing happening that day. Arnold Palmer was playing in his last U.S. Open, the New York Rangers were celebrating their Stanley Cup win with a parade down Broadway, the World Cup opened with a game at Soldier Field in Chicago, and the New York Knicks and the Houston Rockets were playing game five of the NBA finals.
None of that mattered much once that Bronco starting rolling. ESPN Films' 30 For 30 series captures the day's events perfectly in Brett Morgen's "June 17th, 1994." Unlike many documentaries, Morgen's doesn't include cutaways to interviews. He presents archival footage of the day's events chronologically to tell the story. It's similar to watching TV and changing the channels, with each channel contributing to the narrative. It's a marvelous piece of work, and I encourage you to watch it below.
(Image: martinsvillechat.com)