By ISSA and R.V. Baugus
Historic Wrigley Field in Chicago is the latest professional sports stadium to achieve GBAC STAR™ Facility Accreditation from the Global Biorisk Advisory Council™, (GBAC), a Division of ISSA. Additional facilities that can now display the accreditation seal include Chesapeake Energy Arena in Oklahoma City and Alley Theatre in Houston.
"When a facility has an organized approach to cleaning, disinfection, and infection prevention, employees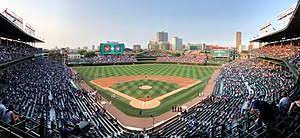 have a clear picture of their roles and responsibilities," said GBAC Executive Director Patricia Olinger. "GBAC STAR accreditation helps organizations create and execute a plan for minimizing risks associated with infectious agents. This makes it an ideal fit for historic places like Wrigley Field, newer hotels, and everything in between."
Built in 1914 and known as the "Friendly Confines," Wrigley Field has been the home of the Chicago Cubs for more than a century. In 2004, the City of Chicago named the ballpark a Chicago Landmark, and in 2020, the site was designated as a National Historic Landmark by the U.S. Department of the Interior. The ballpark, which is the second-oldest active MLB ballpark, averages more than three million fans per year, and is a sought-after destination for sports enthusiasts around the world.
The latest public assembly venues to earn GBAC STAR accreditation include:
Convention Centers
Las Cruces Convention Center in Las Cruces, N.M.
Yakima Convention Center in Yakima, Wash.
Stadiums or Arenas
Chesapeake Energy Arena in Oklahoma City, home of the NBA's Oklahoma City Thunder
Wrigley Field in Chicago, home of the MLB's Chicago Cubs
Theatre or Performing Arts Center
Alley Theatre in Houston
"As more people return to the places where they work, eat, shop, watch sports, and socialize, they want reassurance that these environments are safe," said ISSA Executive Director John Barrett. "The GBAC STAR seal is a clear sign that a facility knows how to properly manage biorisks and prevent future infections through cleaning, disinfection, and other best practices."
Learn more and apply for GBAC STAR Facility Accreditation at gbac.org/star.
Find accredited facilities and those pursuing accreditation via the GBAC STAR Facility Directory at gbac.org/directory.
IAVM members seeking to apply for accreditation through GBAC, please use the link https://gbac.issa.com/iavm/!