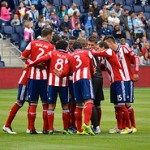 Soccer exhibition matches are otherwise known by the serene, calm title of a "friendly," which conjures up all kinds of warm fuzzies and group hugs. Friendly, that is, until Mexican soccer rivals Chivas (Guadalajara) and Club America (Mexico City) square off on the field.
The teams, both lavishly worshiped by an adoring and rabid fan base, squared off at Sam Boyd Stadium on July 3 on the campus of the University of Nevada at Las Vegas and the meeting was anything but friendly amongst the teams and amongst the fans.
As a matter of fact, the match had not even started before hundreds of Club America fans awaited a Chivas bus entering the stadium parking lot. Rocks the size of baseballs and bottles the size of, well, bottles were thrown.
The wheels were clearly set in motion for a parking lot brawl that grew only uglier and resulted in six people injured and citations issued to 20. Police were able to quell the disturbance, which served as a temporary reprieve.
Once inside, the Las Vegas Review-Journal reported that more fans threw punches, tossed bottles and set off fireworks and flares during and after the match.
"The focus was the safety of the fans and players and everyone involved in the game."
"The focus was the safety of the fans and players and everyone involved in the game," game promoter Tim Luce told the newspaper. "We feel that police took immediate action to be able to calm the disturbance and came up with a good plan making sure people got in."
It did not help that a stifling heat wave engulfed the city, causing fuses to be even shorter not only in the stands but on the field as well. Both teams had two players ejected, including both captains. Chivas scored a late goal for a 1-0 lead but the match was abandoned when fans stormed the field and engaged in more fighting.
In hindsight, it was a volatile situation that could have been much worse were it not for security diffusing the skirmishes. As it stands, though, the El Super Clasico will be remembered not so much for what took place on the field but off of it.