By R.V. Baugus
With your permission, please allow me if only for a minute to play the seasonal role of the Grinch with regards to the following:
According to a study by Bizzabo, the world's leading event success platform, almost two-thirds of all event speakers are male.
Bah, humbug!
In its global analysis annual release on Gender Diversity & Inclusion in Events Report that analyzed the gender diversity of more than 60,000 event speakers over a seven-year period from 2013-2019, and spanned 58 countries across five continents, 45 industries and thousands of the world's largest professional events, the final report is enough to make Cindy Lou Who look up with those doleful eyes and ask, "why?" And who could blame the little princess from Whoville? Not us, not in what is approaching 2020.
In its release Bizzabo CEO and co-founder Eran Ben-Shushan said: "Forward thinking business leaders, and marketers intuitively know that gender balance is important to the overall success of an event. We're releasing this data to help more leaders and organizations realize that the gender gap is still large, and unfortunately, closing all too slowly."
According to Bizzabo's global analysis, on average more than two-thirds (66%) of all speakers between 2013 and 2019 were male, while just one-third (33%) were female. This is a three percent jump from last year's analysis, which showed 69 percent of speakers to be male, and only 31 percent to be female.
Call it a jump if you must, but it still produces numbers that are far from flattering when a talent pool of speakers is more diverse and expert than ever.
"This year's analysis has shown progress, when compared to last year's study but, unfortunately, not enough,"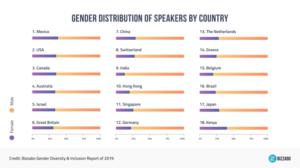 added Alon Alroy, Co-Founder of Bizzabo. "The narrow three percent bump, even with taking into account the smaller dataset used last year, shows that we still have a long way to go before there is greater gender balance within events."
This comes at a time when IAVM takes serious the notion of being "intentional" as it seeks speakers for its events. It is the same intentionality that our member venues are demonstrating in the hiring and promotion process. It is long, long, overdue, and a process that will not change overnight, nor really should it just for the sake of change.
But the time to move beyond talking about it to doing something about starts now, so going forward within our corner of the industry results can be demonstrated.
The analysis showed that when comparing the United States, Canada and the United Kingdom, the U.S. and Canada tied for most diverse, with 64 percent male versus 36 percent female, respectively. In the U.K, 69 percent of all speakers were male, while 31 percent were female, making it the least diverse of the three.
Of the 55 other countries studied, 19 came in last with almost zero percent of speakers being female. Those 19 countries included: Turkey, Czech Republic, South Korea, Philippines, Cote D'Ivoire, Macau, Norway, Malta, Qatar, Indonesia, Poland, Bahamas, Austria, Malaysia, Finland, Uruguay, Peru and Slovakia.
The deep dive also found that the country with the highest number of female speakers was Kenya, at 40 percent versus 60 percent. Right behind Kenya was Mexico (38 percent female), followed by both the U.S. and Canada, which tied for third place at 36 percent female.
The year 2020 is around the corner, and so are some fantastic opportunities. This is one that should not only be embraced, but executed to demonstrate it is more than just us guys capable of being speakers and presenters.
And with that we now carve the roast beast …