By R.V. Baugus
For Zane Collings, it's the same family but a different ZIP code and opportunity to lead one of the most iconic venues in the world.
Moving from a position with ASM Global's VyStar Veterans Memorial Arena in Jacksonville, FL, Collings is the new general manager of the ASM Global Smoothie King Center and Champions Square in New Orleans, and most notably the world-famous Mercedes-Benz Superdome. Collings replaces long-time industry veteran Alan Freeman, who retired after 40-plus years of service in the public assembly venue industry. Colling's position was announced by the Louisiana Stadium and Exposition District (LSED) on April 22.
"I will be responsible for the Mercedes-Benz Superdome, Smoothie King Center, and Champions Square and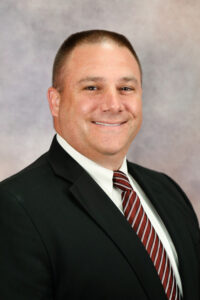 everything that would go into a NFL stadium and NBA building including event procurement, booking, operations, maintenance, relationships with the two team tenants, marketing, and promotions," Collings said by phone while in Jacksonville where he is helping the sister ASM Global facility "back fill" until making a new hire. "I have another responsibility with the corporate office as the southeast regional booking director for the arenas and will continue to do that. I will still help find content for all of our arenas in the southeast which happens to be New Orleans as well as Jacksonville."
Collings served in Jacksonville for more than seven years and has been in the ASM/SMG family for more than 21 years. He has also worked in other then-SMG venues including Santander Arena, Dow Event Center, Sovereign Center, and New Haven Coliseum.
"I love Florida and the Jacksonville market," Collings said. "There are great people here. It's been a wonderful growth opportunity for me personally. Being with ASM/SMG for 21 years with the first 14 years in the smaller tertiary markets, Jacksonville enabled me to get to a building of substantial size at the arena and to be able to work in the NFL with the Jaguars and procure some really cool concerts with my partners in crime over there at the Jaguars."
Now that he is in the Crescent City, Collings is very familiar with the immense history of the visibility that comes with overseeing a venue such as the Superdome, which has hosted a longer list of prominent events than we have room to share but will include Pope visits, Muhammad Ali boxing matches, Super Bowls, and NCAA Final Fours, to name a few.
"Moving to New Orleans, I get to experience a whole different level and to be in an exciting part of the country and not only an NFL building but also NBA," Collings said. "Call it two-for-one if you want. The Superdome is not just another building. It is an iconic venue that transcends just another stadium. You can build a brand-spanking new building in big cities and big markets but you can't build a Superdome. There's too much history, too much character, too much culture that goes into what it really is. That's the uniqueness of something that gets me out of a market that I really loved to live in and to something new that is bigger than just a building."
Collings also believes that having worked in a state and at a venue that has been "pretty open" for business while the pandemic pushes on is a benefit.
"As a matter of fact, VyStar Memorial Arena had its first 100% capacity for the sold-out UFC 261 event on April 24th," Collings said. "To put 15,000 people in the arena was a fantastic night. Working through reduced capacity including hockey games, concerts, and Disney on Ice, has been a good challenge to see those things come to fruition. Louisiana is not quite as open as Florida, so hopefully my experience will be beneficial as Louisiana has started to open up. We just received state approval for 25% for non-sporting events and hope to be much further beyond that in the next short-term."