By Delaware North Communications
Adina Erwin, CVE, has joined Delaware North as senior vice president for business operations at TD Garden in Boston. Erwin will report to Amy Latimer, president of TD Garden.
In her new role, Erwin will develop strategies to support and drive business results for operational excellence,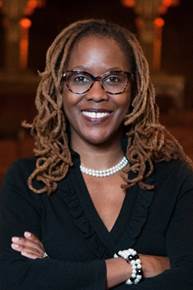 including facility management, capital projects and guest service; maximizing the event schedule; leveraging innovative technology initiatives; and positioning the business as an industry leader. She will be responsible for developing and managing all operational functions and personnel related to client satisfaction, retention and maximization of guest experience, and will serve as a key contact for both Delaware North Sportservice at TD Garden and for The Hub on Causeway development.
Erwin brings more than 20 years of operational and managerial experience in sports and entertainment to Delaware North. She most recently served as vice president and chief operating officer of Fox Theatre in Atlanta, where she developed and led a master plan that enhanced existing revenue streams, introduced new revenue opportunities, and improved guest and premium experience assets. She has also held leadership roles with SMG Jacksonville, which manages six sports, entertainment, and convention venues on behalf of the City of Jacksonville, FL, and Center Operating Company in Dallas.
Erwin is a graduate of the University of North Carolina at Chapel Hill and holds a master's in sport management from the University of Massachusetts at Amherst. Her numerous awards and honors include a Woman of Influence Award from VenuesNow Magazine, the Ray Ward Award for extraordinary contributions to IAVM's Venue Management School, and serving as the chair of the Board of Trustees for the IAVM Foundation.