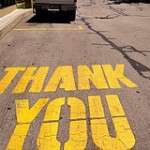 Who says that 13 is an unlucky number?
Since April 12, 2000, I have been fortunate, honored, privileged but mostly blessed to have worked at IAVM and since 2004 to have served in the capacity of editor of Facility Manager magazine. Those are 13 years in my life that I would not trade with anyone in the world and will cherish throughout the years ahead.
But I have made a decision to move along with excitement and expectation for what God has in store for me for the future. I announced my resignation and my final day at IAVM will be Friday, August 30.
I have mentioned to a few folks that I thought as my time wound down here the thing that I would miss the most would be writing and taking care of the business that is Facility Manager. I quickly discovered that not to be accurate and that what I am going to miss the most are the friendships I have been fortunate to make over the years with so many fantastic, dedicated and loyal people to this industry and association. (I'm not letting you off the hook … you will get my contact information at the end of this column and I hope you will stay in touch.)
"I quickly discovered … that what I am going to miss the most are the friendships I have been fortunate to make over the years with so many fantastic, dedicated and loyal people to this industry and association."
Few likely remember, but this grizzled veteran actually worked at then IAAM in 1990-91 over at the Airport Freeway location in Irving. The staff was half the size of our current staff, but I knew at that time that this was the industry and the association for me.
I grew up going to live sports events and concerts and still do to this day. I also grew up pursuing a journalism career with most of my high school, undergraduate and early professional career working in various aspects of sports journalism. When I interviewed for the job as editor of Facility Manager in 1990 to discover I would work on a magazine and interact with people involved in managing so many venues that bring those very sporting events and concerts to life, well, I had found the perfect marriage in combining my writing with the perfect industry to chronicle those words. It has been a marriage that has lasted to this day.
Please keep up all the wonderful work that you do.  It is not a cliché that you make a difference in your community … it is the truth and I have been privileged to witness so much of that from a bird's-eye view with the magazine. You bring joy to lives, you do make memories and you do create experiences that people carry with them for a lifetime. You have done that for me and you will continue to do so as I go to games, concerts, consumer shows and symphonies. Thank you for that.
Speaking of clichés, maybe you can teach an old dog new tricks, because I am under contract to write my very first book. You might say the book is the next chapter of my life. Uh, or you may not. It will be a biography with a tentative working title of Breakaway. I am fortunate to write this book about a close friend I first met when we were junior high school age and began attending the same church. We both grew up in an area of Dallas called Pleasant Grove, which is probably more grove than pleasant. Let's just say it was blue-collar and my friend would eventually leave a 16-year career of coaching high school basketball to become a huge financial success in the world of network marketing. His is a very interesting story and comes on the heels of a first book he wrote last year that sold very well over amazon.com. Wish me luck and be sure to look for it in 2014!
While that continues to be a work in progress, I certainly welcome freelance opportunities that come along, so should you have need for writing, editing, or proofing, I hope you will keep me in mind.
With that, it is time to say so long for now and to thank you one last time for your support, encouragement and friendship over the many past years. You have always been there for me and for that I am truly grateful.
Now for that contact information. My email is rv.baugus@verizon.net, my cell number is 469-878-4289 and my LinkedIn address is www.linkedin.com/pub/r-v-baugus/33/33b/142/. I look forward to staying in touch and hope you will do the same.
God bless!