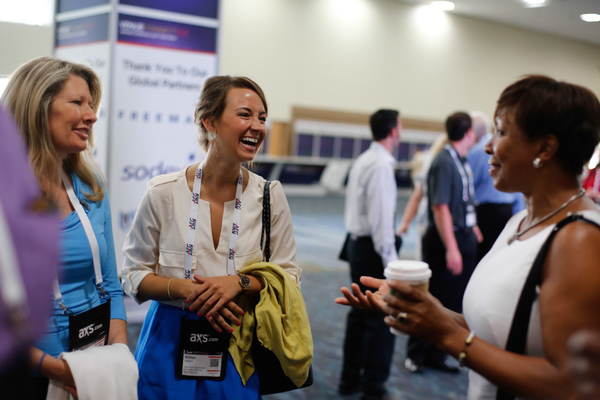 VenueConnect 2013 in New Orleans has come and gone. If you were there, you undoubtedly brought back home with you some new ideas, some extra motivation and likely some new friends that you made while at the industry's premier conference and trade show.
If you were not in New Orleans, there is no reason for us to scold you after the fact, but we can already begin banging the drum to encourage you to plan to be in Portland in 2014 for the 89th annual meeting.
Before we tell you what went on, we want to share with you a comment from an attendee who obviously found the time spent at VenueConnect quite beneficial.
"The breadth of quality educational and networking sessions, not to mention entertainment, at the Prime Site Award-winning Ernest N. Morial Convention Center was a testament to IAVM, and the entire experience was a credit to New Orleans."
Giving back. More than 120 IAVM members took time out of a Saturday morning to travel to Pontchartrain Park as part of the Legacy Project to help in the community by working on various projects in an area still fighting to rebuild eight years after Hurricane Katrina. The effort was not lost on Wendell Pierce, who said that so many in the community were very grateful for the help.
Did we say Wendell Pierce? This year's keynote speaker is a native son and is making his own major imprint in the rebuilding effort in New Orleans by opening convenience stores and supermarkets in areas where residents will not have to travel far to obtain healthy food choices and fruits and vegetables. Forget India and China as emerging markets, Pierce said. Those markets are all over the United States in under-served areas. Pierce said it is time to build in those markets and noted that "poor people will pay to drink Starbucks, too."
Links for the memories! Golfers of all skill levels took to the course to participate in the IAVM Foundation Friday tournament to raise funds for the Foundation which in turn will go back out in the future to support industry research, programming and education. The Silent Auction was another hive of activity where bidding took place for all kinds of tickets, items and much, much more that will go back into the Foundation coffers.
"IAVM does industry education like no one else and presented a vast array of topics this year that spoke to every attendee."
There were all kinds of floats, bands and beads, which is not exactly a news scoop in New Orleans. But these were all indoors and helped kick off an outstanding trade show that brought decision-making buyers to those companies that provide products or services to the industry. Yes, various IAVM members boarded the floats and tossed beads as the parade traveled all four corners of the Ernest N. Morial Convention Center. This reporter caught an unsightly glimpse of one member who brazenly raised his shirt as his float passed by. Let's just say it was an unforgettable moment.
Speaking of unforgettable moments, there was nary a dry eye in the house when keynoter John O'Leary finished his presentation on The Power of One. We'll not spoil any surprises for you, but please take our word on this and visit rising-above.com to learn more about this incredible speaker, his story and his message of how one single person can make a difference resonates now louder than ever.
Another year and another gavel was passed as Richard Andersen, CFE, moved into the role of immediate past chair upon passing the chairman's gavel to John Bolton, CFE. Richard, thank you for all you did, meant and accomplished during your outstanding term leading the association and, John, we look forward to even greater things in 2013-14!
It was a crowd hungry for education as evidenced by room after room of at-capacity or standing room only audiences. IAVM does industry education like no one else and presented a vast array of topics this year that spoke to every attendee. Education is obviously a huge takeaway and comments were in abundance about how the sessions met needs for today's busy industry professionals.
Hey, it is New Orleans, so it was also a crowd hungry for some fun, and indeed Fun Night delivered in the best way possible with an evening at Mardi Gras World. The night provided the perfect send-off and capped this year's VenueConnect in perfect New Orleans style.
Finally, a huge thank you to all of our good friends in New Orleans who made VenueConnect a roaring success. You raised the bar high, which is always a good thing and can only make for better annual conferences in the future.
Be sure and check out the upcoming post-conference issue of Facility Manager magazine that will tell all the above stories and much more through words and brilliant photography. And plan for Portland!