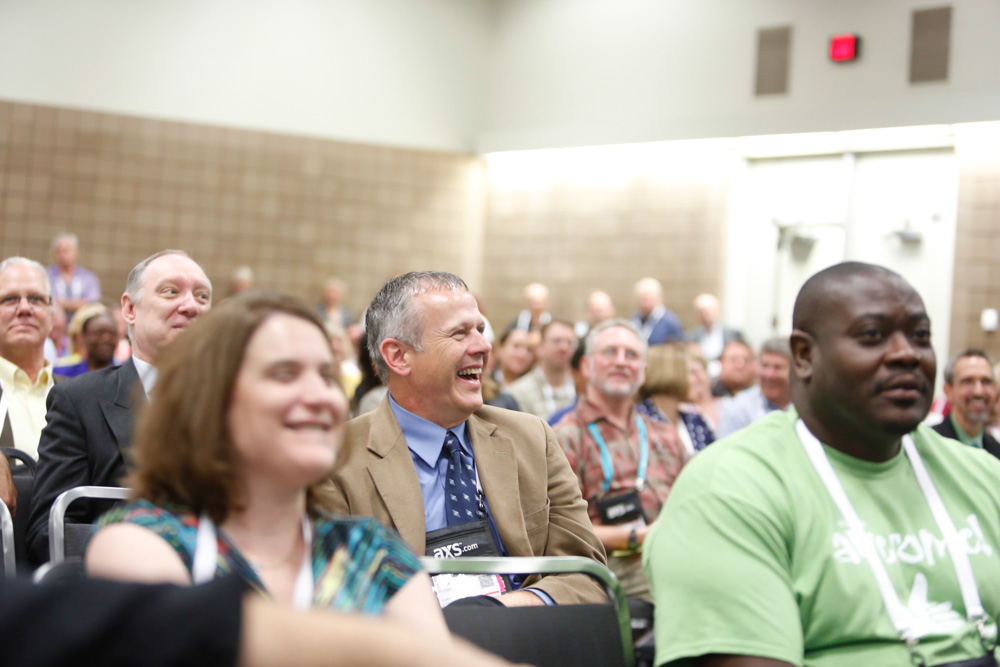 VenueConnect Conference Brings Together Venue Managers, Ticketing Companies and More in New Orleans
–Billboard
The mood has been generally upbeat at VenueConnect — the 88th annual conference and trade show for the International Association of Venue Managers (IAVM) — which is running July 27-30 at the Morial Convention Center in New Orleans. The conference, which attracts those in the business of public assembly and executives from convention centers, arenas, performing arts centers, civic centers, theaters, etc., was well attended (though trade show exhibitors were down), most noticeably among ticketing companies.
See also: BOK Center Manager John Bolton Named Chairman of International Board
And: If You Weren't In New Orleans, Here's What You Missed
Venue Excellence Award Winners
A huge congratulations to these dedicated and deserving IAVM Venue Excellence Award Winners!
Arenas:
INTRUST Bank Arena – Wichita, Kansas
Convention Centers/Exhibit Halls:
Orange County Convention Center – Orlando, Florida
Performing Arts Centers:
Starlight Theatre – Kansas City, Missouri
Stadiums:
Georgia Dome – Atlanta, Georgia
Venue Education Award:
Maple Leaf Sports & Entertainment Ltd. – Toronto, Ontario, Canada
City Allots $50 Million to Favored Arts Project
–New York Times
When the details of Michael R. Bloomberg's last capital budget as mayor were made final in June, one project stood out in particular: a $50 million appropriation for a nascent arts organization, the Culture Shed.
It is New York City's biggest cultural capital grant this year — and an unusually generous contribution to an arts group that has yet to hire staff members, stage a performance or set a construction budget.
Unions Strike at Convention Center
–Philly.com
Trade union members went on strike Thursday at the Pennsylvania Convention Center in a dispute over proposed changes in work rules. A dozen pickets took up positions outside the center on Vine Street, but declined to speak to a reporter. Some held signs saying, "Unfair." One union leader, who refused to be identified, said he thinks the disagreements could be settled quickly.
Couple Gives Birth to Child in the Parking Lot of Michigan Stadium
–USA Today
The Big House had a big delivery this week.
According to a report by AnnArbor.com, last week Dominika and Dave Wozniak were driving past Michigan Stadium on their way to the hospital. Dominika's water had just broken and she knew it was time.
As they were driving, though, Dominika, who is a tennis pro and coach at the University of Michigan, realized they wouldn't have time to navigate traffic and get to the hospital.
Minn. Vikings Stadium Planners Confront Environment, Site Issues Before Construction Begins
–Star Tribune
Minnesota Vikings stadium planners are identifying and starting to address environmental issues before construction begins.
The Minnesota Sports Facilities Authority on Thursday published hundreds of pages of data and analysis. The environmental impact statement notes soil contamination that will be studied further and mitigated as needed. The stadium will be built where the Metrodome now stands in an area that once housed significant industrial operations.
PAC Pushes Sacramento Arena Vote but Won't Say Where its Getting its Money
–Sacramento Bee
A conservative Orange County political action committee that's pushing a public vote on Sacramento's proposed NBA arena has refused to disclose its donors or say why it's involved in the effort.
Dolphins Owner Recruiting Candidates to Run Against Miami Lawmakers Who Opposed Stadium Bid
–Naked Politics
Stephen Ross, the Miami Dolphins owner who vowed to avenge his political loss in Tallahassee earlier this year, is recruiting candidates to run against two lawmakers who opposed using public dollars to partly fund a $350 million renovation to Sun Life Stadium, the Miami Herald has learned.
Gizmos & Gadgets: Helikite Balloon Provides Mobile Emergency Phone Service
–World Future SocietyThe mobile telephone communication has changed the world in the last three decades. It has allowed Developing World countries to establish telecommunications networks at a fraction of the cost of putting in an expensive landline infrastructure that would include hundreds of kilometers of poles and wire.
But even mobile telephone networks can be interrupted in a crisis. That's why TRiaGnoSys, a mobile communications company headquartered in Germany is designing a mobile telephone network that can be deployed in minutes using kite-shaped helium-filled balloons called Helikites.
Bon Jovi Rocks Google Glass at Concert
-Mashable
Flanked by his wife and children backstage before one of his recent concerts, Jon Bon Jovi tested Google Glass for the first time.
The charcoal-colored Glass made its way onstage at MetLife Stadium in New Jersey, where keyboardist David Bryan also donned the technology during "Wanted Dead or Alive."
"This is the start of something huge and could be groundbreaking for the music industry," added Barrett, a documentary filmmaker and founder of PRserve.