Brooke Bockelman has been named vice president of booking for Rocket Mortgage FieldHouse (formerly Quicken Loans Arena). Bockelman comes to Cleveland from Columbus where she most recently served as director of booking for Columbus Arena Sports & Entertainment (CASE), the organization responsible for handling events for Nationwide Arena, the Schottenstein Center, and Ohio Stadium.
In her new position, Bockelman will manage all aspects of event booking for Rocket Mortgage FieldHouse, including budgeting,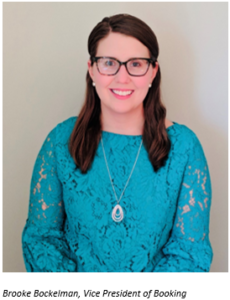 event production, promotion, and negotiation. She will be responsible for coordinating and maintaining the Rocket Mortgage FieldHouse event calendar which includes schedules for the NBA Cleveland Cavaliers and AHL Cleveland Monsters as well as all musical entertainment, live shows, and other private events. Additionally, she will work closely with community leaders on bidding for the opportunity to bring national events to Cleveland and Rocket Mortgage FieldHouse.
"Brooke has worked with some of the best people in the industry and is highly respected across the country," said Rocket Mortgage FieldHouse Senior Vice President of Facility Operations Antony Bonavita, CVE. "We are excited to welcome someone with such diverse event experience into this role to help maintain our long-standing reputation as one of the busiest arenas in the country and the world."
Bockelman's accomplishments span beyond the workplace. In 2013, she established the Michael Belkin Scholarship at The Ohio State University, her alma mater, to send students to Pollstar Live!, the world's largest gathering of live entertainment professionals. In 2016, she was inducted into IAVM's 30 Under 30 Club.
Bockelman spent seven years with CASE in various booking capacities including booking manager and booking coordinator, where she served as the primary contact for all arena usage requests including schedules for the NHL Columbus Blue Jackets and various NCAA Ohio State Buckeyes sports teams. In addition to managing large-scale concerts and conventions, she also handled various national NCAA events including the 2018 Women's Final Four Basketball Tournament. Prior to CASE, Bockelman worked for Live Nation Ohio Valley and Columbus Blue Jackets Arena Management.