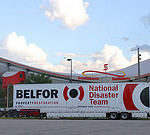 The first Calgary Stampede took place in 1912 and never has had a show canceled despite two wars and a Great Depression. So why should floods that deluged Calgary last Friday prevent the 101st edition of the Stampede from taking place July 5-14? The short answer: it won't.
Bob Thompson, president and chairman of the board of the Stampede, said as much when he noted "We will be hosting the Greatest Outdoor Show on Earth, come hell or high water."
Take the last part of the sentence literally, for T-shirts are on sale that read, "Stampede 101: Hell or High Water." It should be noted that proceeds are going directly to the Southern Alberta Flood Relief.
Thompson and Stampede CEO Vern Kimball said that a parade route that might be altered would be the only noticeable change for an event that attracts guests from around the world.
The Big Four and Grandstand still had water on Monday, but that those will be ready to go by July 5.
Albert O'Neil, manager, conservatory support at Mount Royal University in Calgary, indicated on IAVM's VenueNet that, "We are all high and dry but the entire campus and venues were closed from Friday noon to Wednesday night with all activity canceled, which facilitated the use of residences and gyms as evacuation centres and was also designed as a tactic to keep unnecessary traffic off the roads."
"If you put water as high as Row 8 into perspective … that means if you were a hockey player walking out of the tunnel onto the ice, you would be under water yourself."
Meanwhile, the Scotiabank Saddledome, home to the National Hockey League Calgary Flames, took a pounding and by last Sunday had 30 million gallons of water pumped out, leaving a messy landfill of debris to clean up.
Team President/CEO Ken King said that the event level of the venue was a "total loss" and that all the seats in the lower bowl will be replaced. This level includes the ice plant, kitchens, dressing rooms, coaches' office and the JumboTron nerve center.
The venue is also used as part of the Calgary Stampede and King fully expects the Saddledome to be ready for the big show. The NHL season is still some three months away and should not be impacted.
Still, the magnitude of the volume of water inside the Saddledome seems unfathomable.
Said Mayor Naheed Nenshi: "If you put water as high as Row 8 into perspective … that means if you were a hockey player walking out of the tunnel onto the ice, you would be under water yourself."
Video of Scotiabank Saddlebank flooding
photo credit: Ricky Leong via photopin cc