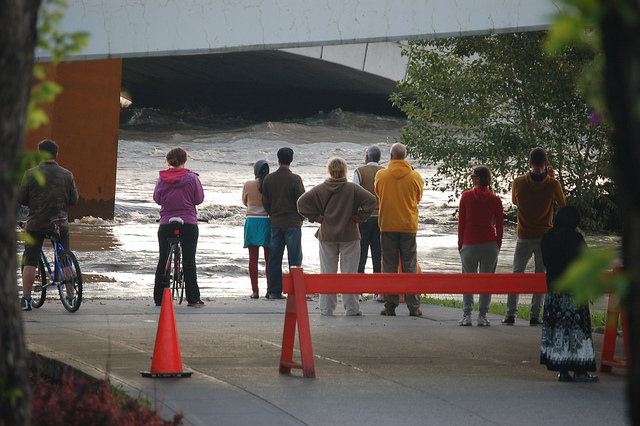 Flames' Scotiabank Saddledome Wrecked Due to Calgary Floods
–New York Daily News

Water inside the arena reached at least the 10th row of seating, leading the Flames' president, Ken King, to call it, 'a total loss.'
See also: Calgary Flooding Inundates Scotiabank Saddledome; Stampede Set To Go On
New Attractions in Vegas Get Tourists High — Literally
–TIME
If you want to see the hot new trend in Las Vegas attractions, look up. Plans are in the works for sky-high roller coasters, observation wheels, and zip lines to provide new thrills far above the Strip.
Like gamblers eager to jump onto a "hot" craps table, Las Vegas casino owners and promoters insist on being part of the latest, most-hyped action in town. What this means is that when an idea catches fire in Sin City, there are sure to be not only imitators, but competitors intent on wooing tourists away with something that's similar and yet bigger, better, more exciting, more brag-worthy.
The Giants' New Social Media Cafe in Pictures
–San Francisco Business Times
Cuddly bears are out and Tweeters are in at AT&T Park.
The Giants unveiled a new social media cafe at their ballpark Monday night. The cafe occupies the same space used by the Build-A-Bear company for several seasons in an area behind the center field scoreboard.
The cafe features several high-definition screens where people can see what Giants-related topics other fans are commenting on through Twitter or Facebook and what pictures are being posted on Instagram.
Call to Improve Disabled Gig Ticketing, Seats and Booking
–BBC
Disabled people trying to buy gig tickets sometimes have to "wait hours" on "premium rate telephone lines" and are often seated separately from family and friends, a study has suggested.
Some have even missed out on concert or festival tickets because venues have delayed accepting proof of disability.
At 90, a Queens Stadium Is Poised for a Comeback
–The New York Times
After decades of languishing in obscurity and disrepair, one of the most famous sports and concert sites in New York will again reverberate with the sound of live music.
The Forest Hills Tennis Stadium in Queens, which opened in 1923 and has played host to Jimmy Connors and John Lennon, sits next to an expanse of grass and clay tennis courts at the West Side Tennis Club, the stadium's owner. Club officials and a promoter have an agreement to hold 19 concerts over the next three years.
L.A. Votes to Let AEG Run Convention Center
–Los Angeles Times
For the first time in its 42 years of operation, the city-run Los Angeles Convention Center will transfer to private management under a pact approved Wednesday by the City Council.
Does The New Red Wings Stadium Have To Be Downtown?
–Detroit CBS Local
Many Detroiters came to the announcement with a wide smile: We're getting a shiny new stadium.
The proposed $650 million structure has been talked about in dreamy tones, tongues wagging at the prospect of not only an arena but an adjacent "entertainment district," a phrase that sounds straight out of a dystopian post-apocalyptic Orwellian nightmare. The structure, along with the district of entertainment, will be in the same basic area as the others, walking distance from the Fillmore, Fox, Comerica Park and Ford Field, Greektown and the Casinos, and Quicken Loans…and Compuware, and pretty much everything else that Detroit has done in the past ten years while the city around them rots.
Cal's New Stadium Renovation Leaves School with Huge Debt to Pay Off
–Yahoo! Sports
The news on Cal's stadium renovations, and the lack of sales to finance it, must be more than a little disturbing to school officials looking at a huge debt.
A major part of the financing for the $321 million renovations to Memorial Stadium was selling special endowment seats, the San Francisco Chronicle reported. They cost $40,000 to $250,000 and you get to keep them for 40 or 50 years. Great plan, right? Well, sure, until they (rather predictably, given the cost) couldn't sell them all.
Orange County Convention Center Achieves New International Standard Certification
–Orange County Convention Center
The Orange County Convention Center (OCCC) has become the third convention center in the world to be certified to a new international sustainability standard.  The OCCC achieved Level One certification with the American Society for Testing and Materials (ASTM) Standard pertaining to the Evaluation and Selection of Venues for Environmentally Sustainable Meetings, Events, Trade Shows, and Conferences.  The venue standard is one of nine standards introduced by the meetings, conventions, exhibitions and events industry in 2012 to provide event planners and suppliers with specifications for producing events in a more sustainable manner.
Conferences, Expos, and Tommy Chong: Convention Centers Launch Their Own Events
–Meetings Net
Convention centers are often considered loss leaders—investments designed to generate room nights for the city, not necessarily turn a profit. But in some destinations that role is being redefined as facility managers look to boost revenues by launching their own events and hosting nontraditional shows, like concerts and comedy acts.
Best and Worst Major League Baseball Stadium Food
–SB Nation
Dan Rubenstein thinks beyond ballpark staples like hot dogs and pizza, and reviews what you should and shouldn't go out of your way to eat this summer at MLB parks everywhere.
Chicago Panel Approves Upgrades to Wrigley Field
–Reuters
A Chicago commission voted on Thursday to approve most of a plan for $300 million in renovations to historic Wrigley Field, home of baseball's Chicago Cubs. But the commission delayed until next month a decision on one of the most debated portions of the plan – a 6,000-square- foot video screen over left field in the 99-year-old ballpark.
Wrigley Field, located in a densely populated neighborhood on the city's north side, is a city landmark, so major changes, such as a proposed new western gate and expanded dugouts, needed approval of the Chicago Commission on Landmarks.
Photo courtesy of Bandit Queen via photopin cc