By R.V. Baugus
IAVM Allied Member Centerplate scored several touchdowns as the F&B provider for Super Bowl LIV at Miami's Hard Rock Stadium.
For starters, how about the fact that this was the first major food recovery at the Super Bowl. Food left over from this year's big game saw Centerplate Hospitality, along with NFL Green Initiative and Food Rescue US, collect and distribute over 30,000 pounds of food to local Miami shelters with the help of an army of volunteers.
Once the scoreboard ticked down to zero in the Kansas City Chiefs' 31-20 win over the San Francisco 49ers, the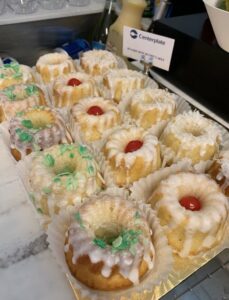 effort began the very next morning when volunteers arrived at the stadium to collect, pack, and ship food remaining from the concession areas, suites, and VIP catered sections.
We're not talking popcorn here, either. According to ESPN, some of the delicacies included beef tenderloins, barbecue chicken, wings, ribs, and charcuterie plates.
"It's a full volunteer job. We just want to help people in need," Ellen Bowen, the director of Food Rescue US-Miami, told ESPN. "It's amazing to see how much food there is that otherwise would have been thrown in the trash that can now feed so many people."
The rescued food is being donated to the Broward Outreach Center, Broward Partnership for the Homeless, Camillus House, Lotus House Shelter and the Miami Rescue Mission. Bowen said that enough food was collected to feed around 20,000 people in need.
The NFL has been working to make a better impact on the environment through its green initiatives at the Super Bowl and regular season games, from adding recycling to using renewable energy at venues.
First Star Solutions got on Twitter to give its shout out for the effort, writing, Wow Miami, what a show from
@centerplate, @HardRockStadium, @SuperBowl, and @NFL some of the best food seen in venues in years. Great Job!!
Centerplate can be applauded for a couple of other noteworthy performances at the Super Bowl:
1. Chef D
For the first time in history, a woman led the food preparation. Executive Chef Dayanny de la Cruz, or "Chef D," can tack the game onto an impressive list of overseeing events including the NFL, college football, tennis, professional basketball, U.S. Open tennis tournament, and the Kentucky Derby.
2. Food for All Tastes
Reflecting its international audience both at home and in the stadium, Hard Rock Stadium and Centerplate served up seafood paella from Spain, French macarons), Argentinian asado, Mexican empanadas, Cubano sausage, tuna tartare, and ceviche.
Kudos from the IAVM family to Centerplate on a job exceptionally well done!