Chefs from Centerplate, the New Orleans Ernest N. Morial Convention Center's exclusive food and beverage provider, impressed judges at two culinary competitions in recent weeks. At the 11th annual Hogs for the Cause, a barbecue-themed fundraiser for cancer research, Centerplate New Orleans Executive Chef Brandon Felder, Centerplate New Orleans Sous Chef Adam Gianelloni, and team leader, Sysco's Andrew Shuford, raised $50,000 for cancer research, the ninth best out of more than 85 teams competing.
Days later, at the New Orleans Food and Wine Experience, Chefs Felder and Gianelloni walked away with a gold medal in the Best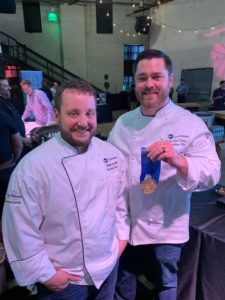 in Show – Meat/Poultry Category for their dish "Duck Four Ways": Duck, Foie Gras and Goat Cheese Ravioli with Duck Confit and Spinach, Rich Foie Gras Laced Duck Demi-Glace, Sunchoke Purée, and Duck Crackling.
"This event is always fun for Adam and me. We get to play around and show our fine dining side," said Chef Felder. "We never agree on what to do, but it always works out in the end."
The Centerplate team continues a streak of high placing dishes at the New Orleans Food and Wine Experience, winning three gold medals and one silver medal over the last four years.
"Our Centerplate team, time and again, excels at what they do both in our facility and in the community. Not easy in a world-renowned culinary destination. Our event planning clients routinely give our culinary team high marks," said Michael J. Sawaya, Convention Center president. "We are proud of Brandon and Adam but not surprised."