By Paul Pettas
Centerplate announced that it has surpassed the 1-million milestone, in partnership with DeliverLean, for meals produced and distributed in tandem with global entertainment destination Hard Rock Stadium for members of the local South Florida community. Nearly five months in and over 1,000,000 meals have now been made for at-risk senior citizens, public schools, food dependent families, churches, shelters, missions, and more.
Led by Vice President & General Manager Kevin Mitchell, and Executive Chef Dayanny De la Cruz, the Centerplate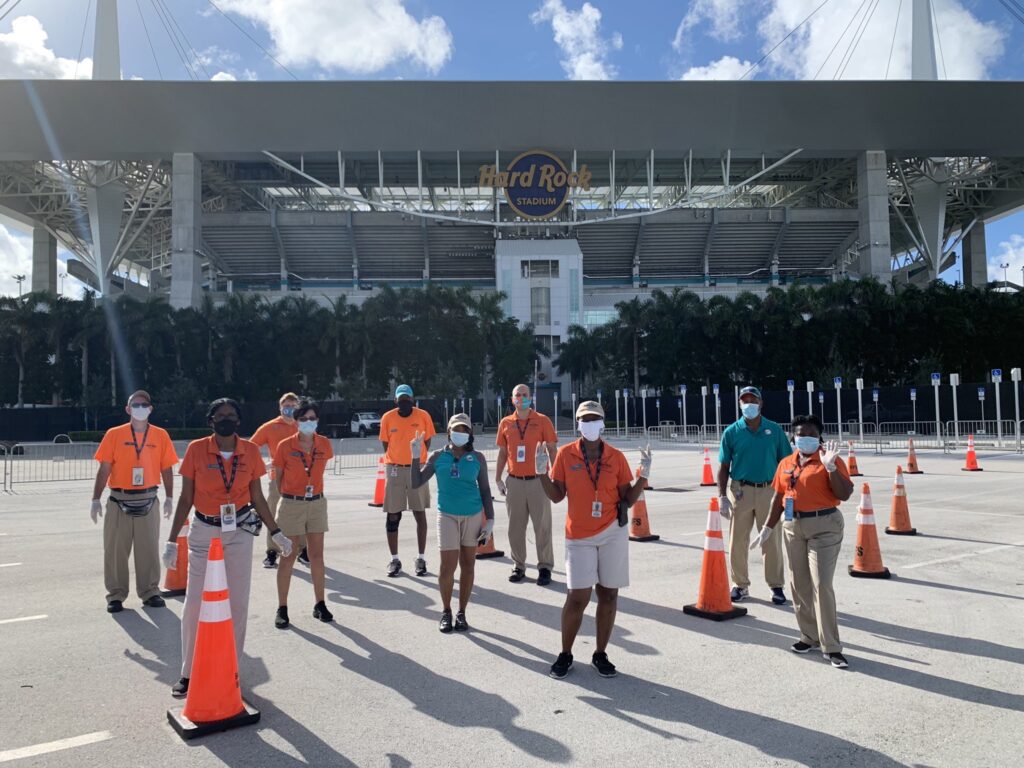 management and culinary staff of more than forty has gone above and beyond to serve a new audience, as the ordinary events – football games, international soccer matches, world-class concerts, corporate events and more – at the stadium have all been put on hold due to the ongoing pandemic.
"It is crucial that we help sustain South Florida during these hard times with delicious, nutritious meals," said Centerplate Executive Vice President Sal Ferrulo. "The decision to give back and help the Dolphins reflects our core brand values and mission to help lift up the cities in which we serve. Pivoting quickly from serving guests at Super Bowl LIV in February, our team has been brave and has produced an output equivalent to a full football season worth of meals. One million meals right back into the local area."
Through a strategic partnership with DeliverLean, one of the leading health food manufacturers in the Southeast, the two companies have come together to meet the demand for healthy and balanced meals. DeliverLean, in partnership with Miami-Dade County, has fed at-risk seniors since March 2020 in response to the pandemic. DeliverLean engaged Centerplate to partner in creating meals at their facilities and in turn created 40+ jobs in the community.
Thousands have been to bolster the Miami Dolphins Foundation Food Relief Program, which is combating food insecurity in South Florida. In March, the organization gave $500,000 to help meet critical needs for elderly and youth, such as school meal programs for Broward County and Miami-Dade County Public Schools, relief efforts led by churches in Miami Gardens and to bolster programs from Feeding South Florida to provide food for the underserved.
"Led by Stephen Ross and Tom Garfinkel, we have embraced our rule as stewards of the community and our committed to helping combat food insecurity by using these programs to provide consistent employment for our foodservice staff and stadium operations teams as stewards," said Miami Dolphins Senior Vice President of Communications and Community Affairs Jason Jenkins. "We appreciate the commitment that Centerplate's team has shown amidst these extraordinary times and admire the strength that our community has shown throughout this pandemic. The overall program has also generated jobs and revenue for the local restaurant industry, while employing guest services and security staff at the stadium that have been idled as a result of COVID-19-related event cancellations."
Stephen Ross and the organization have invested $2 million in the Miami Dolphins Foundation Food Relief Program and are working to raise an additional $1 million by matching all dollars raised by the South Florida community and Miami Dolphins fans worldwide for a potential $4 million total impact. Individuals and businesses that wish to participate in the match program can donate online at dolphins.com/meals.
The Centerplate staff, while adhering to new safety protocols and procedures, work seven days a week to plan and prepare these healthy, nutritious meals. The most popular menu items include BBQ Chicken & Roasted Potatoes, Turkey Chili & Mashed Potatoes, and Coconut Curry Chicken & Thai Noodles.
"As our community was in need, we are proud to step up to the plate with the Miami Dolphins and Centerplate to feed our most at-risk population," said Scott Harris, Founder and CEO of DeliverLean. "Together, we are committed to ensuring our community stays healthy and we continue to create jobs during these difficult times."
Paul Pettas, is Public Relations & Communications Director for Centerplate.