IAVM is honored to have Chris Bryant, Chief Experience Officer and Business Performance Expert of the Bryant Group in Los Angeles, to serve as the featured speaker at the 2018 GuestX from February 20-22 in Minneapolis.
In speaking on the subject of Energizing the Guest Experience, Bryant is beyond qualified with a background that includes serving as Training Director with the Ritz-Carlton Hotel Company and NBA award-winner in the fine art of premium service. Bryant has inspired more than 35 professional sports franchises and venues by providing unique tools on how to provide the ultimate guest experience.
Bryant was gracious to take some time out of a busy schedule to talk about his skill set and how he expects attendees to benefit from attending his presentation at GuestX.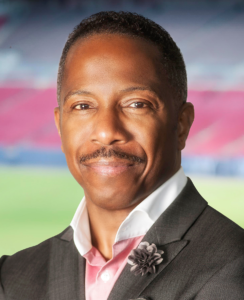 I have to ask first what is the definition of a Business Performance Expert?
A Business Performance Expert specializes in elevating the performance of an individual or organization in a specific area of focus to gain a competitive advantage. My passion and expertise relates to the delivery of a superior guest experience to improve retention, relationships, referrals, and revenue.
How does your work with a premier customer service organization like the Ritz-Carlton transfer to the public assembly venue industry to which you will be speaking?
There are many similarities with the luxury hotel industry and public venues as it relates to delivering a high-quality guest experience at every touch-point. In the hotel business, you are constantly striving to hire the right people, then train and keep them motivated; when many are part-time employees and only work a certain number of events. The similar challenge is to foster total buy-in and ensure every staff member is a brand ambassador that embodies the service commitment with every guest.
What are your thoughts or keys to customer retention and fan loyalty, two areas that are shown on your website and very important to any business. How do the successful ones do it and, conversely, what might be a couple of no-no's for any industry in this area?
I strongly believe that customer retention and fan loyalty are absolutely critical to remaining relevant and ensuring sustainable success. Best-in-class organizations and venues understand that people become loyal to memorable experiences that evoke positive emotion and not just a transaction. You cannot control what happens on the stage, court or field, but you can and must control how guests are engaged and the bonds that are built. I think the biggest opportunity and mistake today in most industries is inconsistency. It is nearly impossible to create loyalty when the experience varies from one staff member to the next, and when the customer experience feels like a roller coaster ride. Mixed messages will always get mixed results.
How have expectations changed over the years, not only from guests who stay at premier hotels but for our industry those individuals who come to a game, a concert, a trade show, a ballet, a convention, etc.?
Both high-end hotels and elite venues play host to an increasingly sophisticated and savvy consumer. As options increase and ticket prices rise, so does the expectation of guests, fans, members, and clients. It has never been more important for providers of premium services to offer experiences that are more personalized, anticipatory, distinctive, consistent, and memorable.
What message or takeaway do you hope to provide our attendees when your session wraps up?
I know that running a venue or overseeing the guest experience can sometimes be a challenging responsibility with long hours and little credit for the enormous work done. My goal is to celebrate these amazing professionals and gift them with some helpful tips, tools, and techniques to lighten their load and lift their efforts. I hope to equip, inspire, and keep the magic flowing at every venue and with every event, game, or meeting.