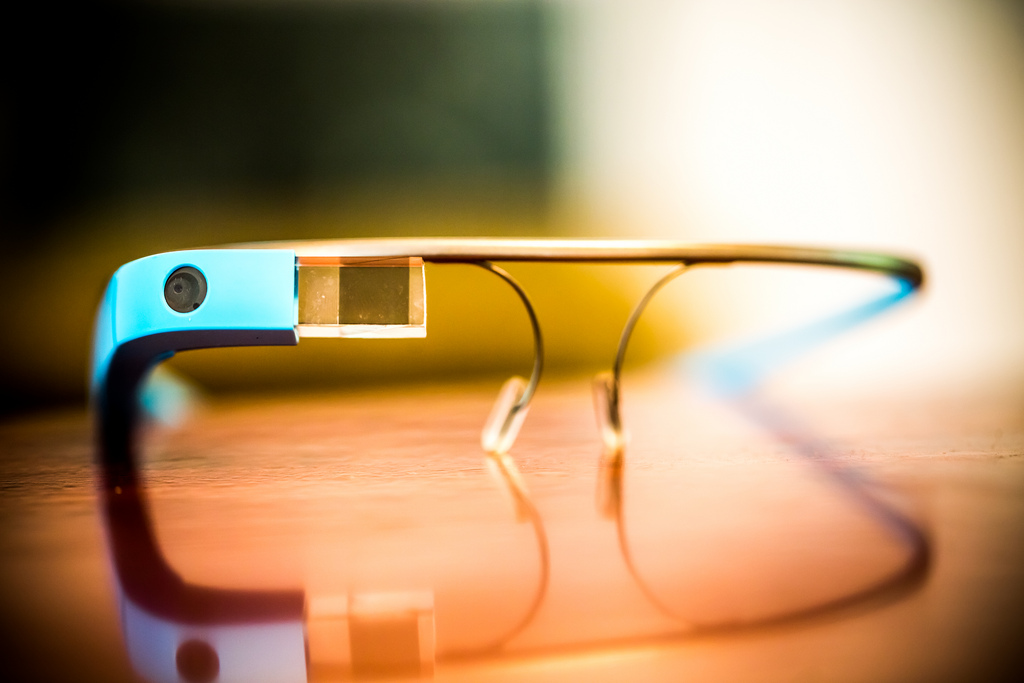 I am keeping a log on the device within event services. My summary so far:
Captain's Log No. 1 
Previewed Google Glass promo website. LOTS of promises of everything the device can do with photos of very attractive people doing very active things.
We are advised to
Be Active
Explore Your World
Live Lighter
Upon closer inspection of the website sub-pages, it looks like the tools are the same as other mobile devices (smartphone, tablets—Droid or iPhone), just on your head, viewed through a 3/8" x 3/8" x 3/4" clear cube, which is attached to either a head set or faux glasses. One can use vocal commands, get maps and directions, take photos or videos, play music, retrieve data, read a New York Times article, etc.
Later that day: Met with event services staff to discuss options. Ideas included:
• Display captioning / translations / supertitles?
• Record hands-on use of ticket scanners, reading a ticket, other procedures for training
• Can it read and transmit to another location, i.e. for a medical or trip and fall emergency?
Charged device before use.
Attempted setup for a user; got derailed after attempted "pairing" Google Glass with smartphone. IMPORTANT: Glass MUST have a host device.
Captain's Log No. 2
Completed setup with device paired to Joe Durr cell phone; needed to register to a Google Gmail account. Had to download Glass App to phone.
Looks like Google Glass device is a transmitter; that is, it MUST have the smartphone or other mobile device in close proximity.
Question / observation: would each user of Glass need to have a paired device and OWN Gmail account? Or a "company" Gmail account? Can only ONE mobile device be registered to the Glass? TBD.
Set up instructions somewhat cumbersome, able to be peered through the "ice cube" (my term, not theirs), or display a larger image onto the paired cell phone screen on required downloaded Glass App. Confirms that Google Glass can/will transmit to another device.
Side of the Google Glass transmitter gets VERY warm, hot to the touch. It's near my right temple! Having to look up and to the right for every wee visual nugget takes some getting used to. I'm not yet. And my contact lense gets stuck in an awkward position; makes reading difficult.
More to follow. Stay tuned.
Captain out.
(photo credit: Thomas Hawk via photopin cc)