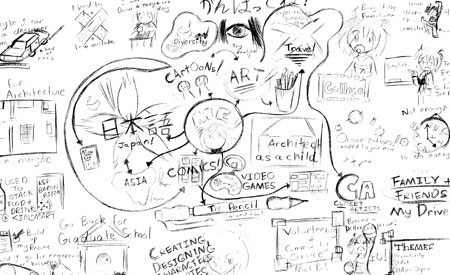 If you're seeking a job or a new career, then consider creating a personal map via visual thinking. This new way of figuring out one's interests was developed at Wake Forest University in its career center.
"As far as we know, we are the first university to set up a designated area in a career center with the tools and support to use visual thinking techniques to create a personal map," said Katharine Brooks, Wake Forest University's executive director of personal and career development.
Here's how it works: Place yourself in the center of the page, then quickly add short phrases or pictures of things that are important to you in life. When that's completed, make connections among the items.
"One student of mine drew a line connecting her favorite TV show, Law & Order: SVU, to her love of playing poker to having a sister with cerebral palsy," Brooks said. "When I asked her what the connection was, she said all of those things honed her ability to problem solve and strategize. She liked to guess who the villain was in SVU. She used strategic thinking in her tournament-winning poker playing. And because her sister had physical and learning challenges, she was always trying to come up with strategies for helping her gain access to inaccessible places and do better in school by finding other ways to help her learn."
Brooks suggests you look at your whole life when creating your personal map.
"Visual mapping moves the focus away from asking, 'How am I going to make money?' Brooks said. "It's a wide-angle view on choosing ways to make a living that fit within your life passions rather than just intersecting them in a small way."
And it's not just a feel-good exercise, she said.
"We explore the difficult challenges that have tested our mettle," Brooks said. "By identifying the skills in which we are particularly strong, we can think about how we would apply them in the workplace."
(Image: Wake Forest University)