By Mary Klida
Karen Totaro, CVE, general manager for ASM Global, announced Freeman as the exclusive electric service provider in Huntington Place in Detroit. For almost a century, Freeman has been servicing trade shows, conferences, and events across the country, and is an electric service provider for the Anaheim Convention Center, San Diego Convention Center, Los Angeles Convention Center, Las Vegas Convention Center, McCormick Place in Chicago, NRG Park in Houston, and the Moscone Center in San Francisco, among others.
"Freeman is one of the most successful and well-established event service companies in the business that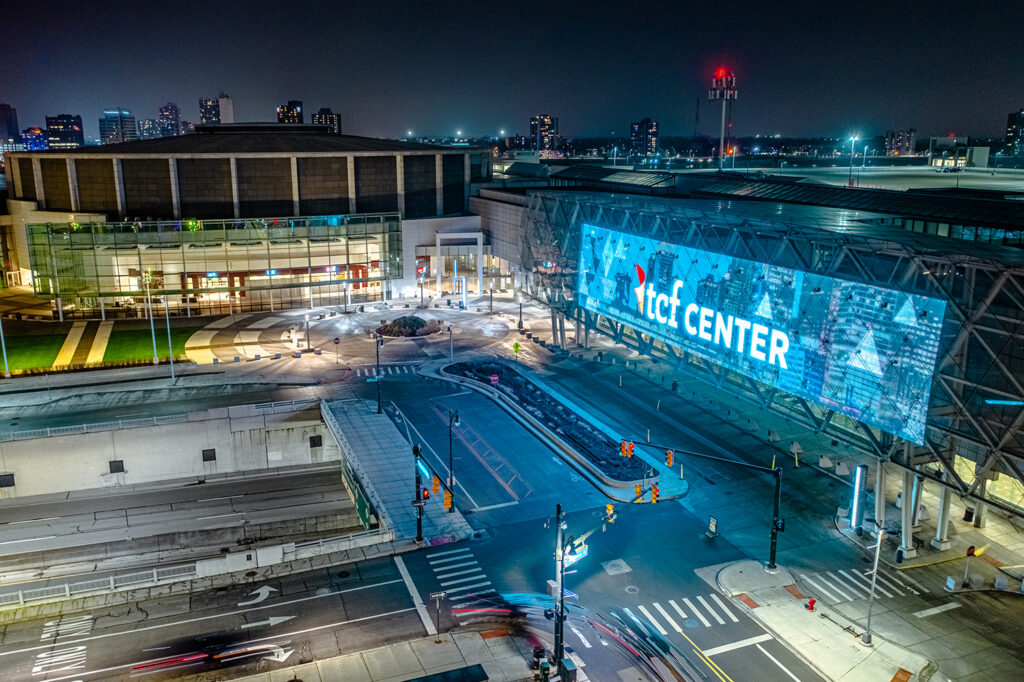 offers an exclusive branch dedicated to providing electrical services to many of the largest convention centers in the country," said Totaro, general manager of Huntington Place. "This new contract is one more step in our efforts to be bold and provide the highest level of customer service in the industry. Our reputation is enhanced by who we choose to partner with, and we are so pleased to partner with Freeman."
The selection was made after completion of a thorough review process. According to materials submitted by Freeman, Huntington Place in Detroit is a destination on the rise as the city is investing back into the downtown area making it an attractive destination for many in the hospitality industry, including the international event industry. Huntington Place has transformed itself and is a beautiful building right in the heart of downtown Detroit.
"Freeman's 95-years of success has relied, to a great extent, on trusted partnerships with our affiliates — including the major event venues," said Janet Dell, Freeman President and COO. "We're proud to work at Huntington Place, and we value ASM Global's capable, efficient, knowledgeable management. They help bring in business because they know what's needed, what's possible, and how to make things happen for all the conferences and trade shows our clients bring to Detroit."
As of April 1, Freeman assumed all prior orders for electric service and abide by the Huntington Place Efficiency Memorandum for labor services. To create a smooth transition for customers, the Freeman crew will be working with Conti Hi-Tech, current electric provider in the venue to relay event orders and transfer onsite equipment.
"We have an opportunity to look at our services and processes and fine tune all those aspects that can make a positive impact for our clients," Totaro said. "Freeman has excelled at customer service, and we know their experience and commitment to our customers will serve Huntington Place and the entire Detroit community well."
Once onboard, FreemanOnline® the proprietary online ordering portal, or "Customer Support Center," will replace the Conti Electric order links on the Online Ordering page in the Huntington Place website. Exhibitors will be able to order electrical services, labor and equipment, and access order history from Freeman through any web-enabled device 24/7. Onsite customer service assistance can be requested with no login required. The Freeman Customer Support Center has been recognized by J.D Power for excellence every year since 2010.
"We're proud to bring Freeman's extensive safety program, experienced team with state-of-the-art equipment, and recognized customer service as the electrical provider at Huntington Place," said Chris Schimek, EVP, Freeman Event & Exhibit Services. "Combined with our intimate knowledge of the facility and tenured partnership with ASM Global, this is great news for all those exhibiting at and visiting events there."
Mary Klida is Senior Marketing & Communications Manager for Huntington Place in Detroit.