By R.V. Baugus
July 21, 2021 marked the return of the first live World Wrestling Entertainment Monday Night RAW since March of 2020. In the interim, WWE bounced around locations in Orlando and Tampa where it held matches under the heading of the Thunderdome with fans shown virtually watching the action. But let's face it, there is nothing like the real thing.
With that, I asked lifelong friend Max Fincher to join me in taking in that first action right here in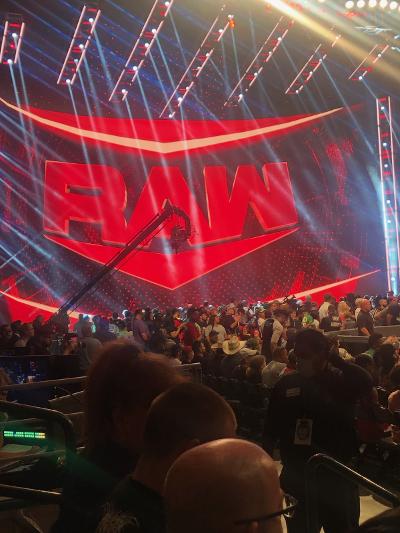 Dallas, Texas at the American Airlines Center. It would be my first attendance at a live event the size of what the crowd would be in Dallas that night. The buzz in the arena was palpable as fans for the first time in months got to actually see their favorite (and non-favorite) wrestlers up close and personal.
Prior to the matches, Max and I grabbed a seat at the bar at the Hero restaurant and bar located just outside the arena's south entrance. Across from us, a gentleman was waxing, well, not so eloquently, about the card for that night's matches as well as asking anyone within earshot to name their favorite wrestler. He and his lady friend were like most of the crowd wearing WWE swag. I felt out of place in a rather tame and non-descript short sleeve shirt.
We met up with the two on our way out the bar where again he asked me to name my favorite wrestler while also telling a buddy of his that I knew more wrestling names through the years than his buddy, which I am still trying to decide was a compliment or insult.
First thing you obviously notice in our "new normal" of spectating at live events happens upon entrance. Say goodbye to hard tickets, which I have a very hard time saying goodbye to, as witnessed by ticket stubs I still have from as early as the 1980s. If one does not have a grasp on phone technology and how to present an "admittance stub" via phone, one is basically out of luck and needs to get some fast training because this is how it is going to be going forward.
The entrance lines moved rather slow as folks were still figuring out the technology and how to present their ticket, but I anticipate over time that will dissipate as fans become familiar with all the nuances.
At first, I thought that Max and I were heading to the world's longest concession line, until I realized it was actually a massive throng gathered to buy more swag of their favorite grapplers at the merchandise stand. Being away from live action for months encouraged people to open their wallets, as that line snaked quite a way on the concourse.
But find a concession stand we did. It was already in the making, but concessions are another part of the live venue experience turning fully to payment by card. The pandemic only rushed the process. I am proud to share as I always proclaim that American Airlines Center serves the best popcorn anywhere, and they still do. There is one difference, however. The popcorn is already bagged and placed in a bucket for the consumer to then open the bag and pour into the bucket, thus cutting out the middle man. Think of the ads on pizza boxes saying sealed by the pie place and opened by the purchaser. It's the same principle.
The arena was packed for the show, and like any wrestling event I have been to included people of all ages, races, and ethnicities. It is one of the great happenings of attending a live event where people from all backgrounds come together to cheer or jeer their protagonist or antagonist.
A glance around the arena revealed most elected to not "mask up" than to mask. A feature that ran in our own Venue Professional magazine months ago was written by an architect that included diagrams of how venues in the future would have seating "pods" to accommodate social distancing. The distant future, perhaps, for on this night it was impossible to socially distance with a capacity crowd. The more I think about it, the only thing fit for a pod is peas. Lighten up, folks, I have my two vaccines and adhere to the rules and regs of where I am. I hope and pray we never have to get to a point to sit in pods, but if we do … I am
good with it.
When one is at a pro wrestling match and has the appropriate food and drink de jour of beer and popcorn, one has the need to visit the men's room. Nothing really different happening in there, either, other than some short lines in front of the sinks for guys waiting to wash/sanitize their hands. This is obviously a good thing.
All felt safe and secure throughout the night. The fans had a raucous, good time, and got to get back out and experience the bond of live entertainment.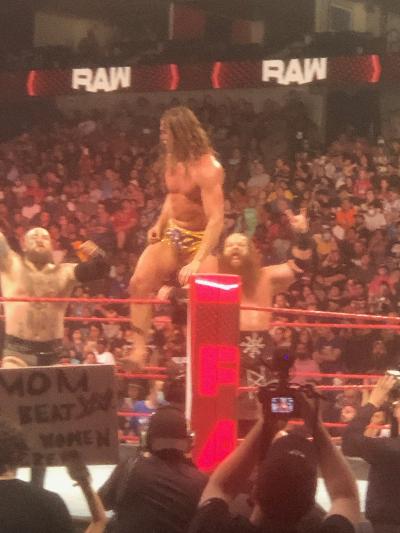 Oh, as for the matches (and you will just have to trust me on this), the show ended as Nikki A.S.H. (stands for Almost a Super Hero) in her costume get-up, cashed in her Money in the Bank contract to enter the ring and defeat "Queen" Charlotte Flair (yes, the daughter of the one and only Nature Boy Ric Flair) to capture the RAW Women's Championship. She celebrated with the fans around ringside, who were totally down with the win.
It was also great to see the return of clever signs in the stands. A guy named Rick that I met in the past is often seen seated ringside with the greatest of signs. He was there for the matches, of course, and was ready to hold up a sign when villain Jinder Mahal was blathering on in the ring accompanied by his evil henchman Veer and Shanky. It was obviously Jinder's birthday, because Rick's sign read "Happy Birthday Jinder. You still suck." Such love in the crowd.
Then there was the one held by a fan that stated simply "Boogs = Ratings." OK, I know what you gutter minds are thinking, but rocker Rick Boogs comes out to strum a mean guitar before introducing his friend, Shinsake Nakamura. Listen to it sometime. You'll be humming it trying to go to sleep.
In all, an evening not to be forgotten, and further demonstration to the value of live events as we try our best to return to some semblance of normalcy in a still ever-evolving pandemic world.
A big shout out to our friends Dave Brown, Ken Kuhl, and others over at the AAC for not only being the chosen site for the first live RAW in months, but for the great work they did on that night to make the evening safe, secure, and pleasurable for every person who entered through the doors. You all are the true pros.