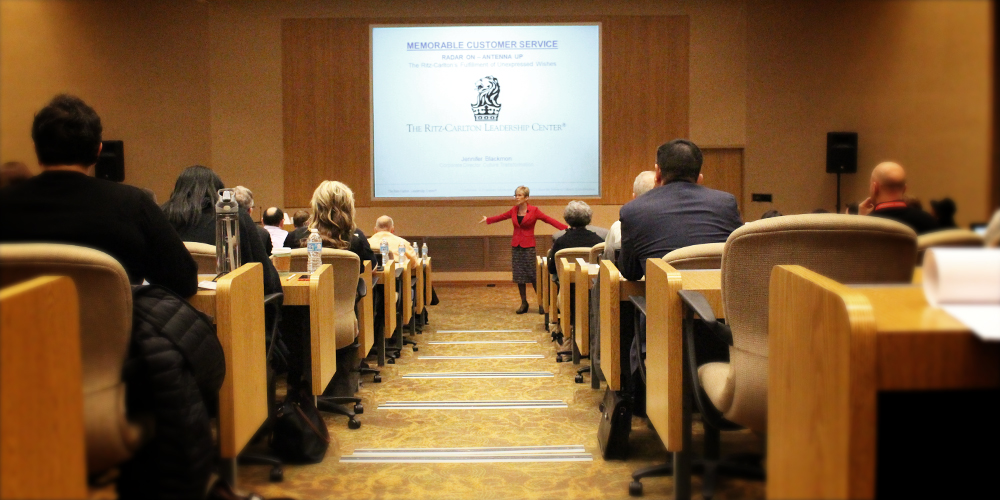 When you create memories, you get people talking.
This was the launchpad for the 2015 GuestX session on memorable customer service from Jennifer Blackmon, corporate director with the Ritz-Carlton Leadership Institute. Blackmon shared amazing examples of service that have become synonymous with the Ritz-Carlton brand, and then took attendees behind the scenes to discuss building the right processes to make those remarkable acts possible.
"Being busy is the archenemy of great customer service," Blackmon said. "If my team is busy with redundant tasks that could take less time with a better process, then we are missing opportunities to provide memorable, personal service with that extra time."
A simple example was having water ready at the porte-cochère. Having cold water immediately accessible to hand to an arriving guest means that hotel staff is not on the phone placing an order with another staff member or disappearing into a corridor to fulfill the request. This small process of stocking water ahead of time sounds insignificant, but it protects that brief exchange between frontline staff and the guest from being consumed by a redundant task—and that is where something memorable can happen.
The challenge—detailed by Blackmon in the session—is that memorable, word-of-mouth-inducing experiences are personal, surprising, and individual. They are above and beyond the expected (cleanliness, service, ambiance), and they even transcend the requested (helpfulness, responsiveness). They are in the rare, elusive, delighted category. Experiences that will always be remembered—surprising acts that we are compelled to share with friends and family when we find ourselves to be the lucky recipients. It's that frontline staff member casually learning that the guest actually prefers tea instead of water when she arrives back at the hotel, and having the time and support needed to anticipate that desire and meet it.
"If you do not have a process for wowing people, I guarantee it will not happen," said Blackmon, as she went on to describe the importance of building memorable guest service one step at a time. For venue managers attending GuestX, it was a great opportunity to evaluate how to better equip frontline staff to be consistent and efficient with the expected, and to feel empowered and motivated to aim for delighted.
"Our business model at Ritz-Carlton is to work on our employees, not our customers," Blackmon said. "If we get the employees right, we get the customers right."