IAVM is excited to introduce a new weekly blog post highlighting some of the most important, interesting and entertaining pieces of industry news from the week. We encourage your news submissions; just email your recommendations to Lauren Kubicki, IAVM's Interactive Marketing Manager. We hope you enjoy
How Do You Protect a Stadium like Boston's Fenway Park from Security Threats?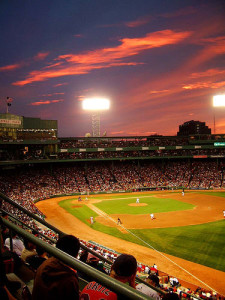 -MassLive.com
Harold Hansen, the director of life safety for the International Association of Venue Managers, had a colleague who enjoyed putting stadium employees on the spot.
"He was kind of a gruff son of a gun," Hansen said. "He walked up to an usher, and said, 'If a bomb went off right now, I stuck a gun in your side, what would you do?'"
In the wake of the Boston Marathon bombings, Red Sox players acknowledge they fear the catastrophe that a bomb inside Fenway Park or any stadium could cause.
See also: Security Firms' Messages Resonate Louder Following Boston Marathon Attack

Scalpers Beware: New Laws Redefine What Is a Ticket
-The Wall Street Journal
In the battle between the scalpers and concert promoters, chalk one up for the promoters. California lawmakers on Tuesday voted to preserve one of the live-music industry's most divisive technologies: paperless tickets—which can be redeemed only at the venue, only by the purchaser.
The preliminary vote is seen a blow to StubHub, a ticket reseller owned by eBay Inc. which has been locked in a battle with Ticketmaster over paperless tickets. Ticketmaster is owned by concert promoter Live Nation Entertainment Inc.
Behind the fight is an industry in turmoil. As technology changes the way fans buy tickets, scalping has become more lucrative—and sophisticated—leaving traditional concert promoters struggling to capture the gains going to the secondary market.
See also: California Assembly Vote Stifles Key Area of Proposed Ticket Bill
What the Most Awesome Ballpark in the World Would Look Like
-USA Today
With Wrigley Field celebrating its 99th birthday on Tuesday amid talk of renovation, we got to thinking about which existing, iconic ballpark elements could be used to create a hybrid super park — the greatest park of them all. Using advanced Photoshop techniques, we managed to combine them to form a rendering of a stadium you definitely should build if you ever have the means to build a stadium.
These are just suggestions, but please give them some thought before you erect whatever forgettable and altogether not-iconic stadium you're planning on building. And if you think you've got better ideas, we're all ears.
Here's what it looks like…
LA's Storied Gibson Amphitheatre Closing in Sept.
-ABC News
Live Nation announced Wednesday that a landmark Los Angeles music venue where Bob Marley, Johnny Cash and Frank Sinatra performed will close its doors this fall. The Gibson Amphitheatre's lease is ending in September and the venue will close its doors.
"It is a tremendous venue with a uniquely intimate setting that has made it a very special place for fans and artists alike," said Bret Gallagher, President of North American Concerts, Southern California/Las Vegas.
Lighting Trends: Lighting Decisions
-Today's Facility Manager
The cost of energy is not disappearing from the news, and today's facility managers are on the front line of this important issue. "In these economically uncertain times, what we can be certain of is energy savings provided by today's energy efficient technologies. Regardless of fiscal cliffs and sequesters, reducing energy costs and improving lighting quality—which creates high occupancy rates and increases worker productivity—will be the way the U.S. economy gets growing again and how American businesses will stay globally competitive," advises Keith T.S. Ward, President & CEO of Luminus Devices, Inc., a Billerica, MA based maker of LED lighting.
Tim Leiweke Hired as CEO of Maple Leaf Sports & Entertainment
-Bloomberg
Tim Leiweke has been hired as president and chief executive officer of Maple Leaf Sports & Entertainment Ltd., the sports and real estate group that owns the Toronto Maple Leafs of the National Hockey League and the Raptors professional basketball club.
Leiweke was previously CEO of Anschutz Entertainment Group Inc., a Los Angeles-based entertainment company that owns the NHL's Los Angeles Kings, Los Angeles Galaxy of MLS, and a stake in the NBA's Los Angeles Lakers.
"Tim Leiweke is one of the top sports executives in the world, renowned for his ability to build championship teams, premier entertainment events, and innovative brand and marketing opportunities," Larry Tanenbaum, chairman of MLSE, said in a statement. Leiweke starts June 30.
Earth Day Guest Post: Five Ways Pro Sports Can Get Greener
-Forbes
Sports leagues can make an immediate impact in preserving our environment for future generations. Only 13% of Americans follow science news while 61% follow sports. Being a 10-year NFL veteran and a father of two beautiful little girls, I feel that it's time for sports teams to be the leaders in taking a proactive stance toward sustainability as opposed to a reactive stance.
How to Stop Trade Show Zombies and Bring Them Back to Life
-Trade Show News Network
Zombies are having a renaissance lately, what with the popular "The Walking Dead" T.V. show on cable, and now the romantic comedy "Warm Bodies" in the theaters.  But unfortunately, zombies have always been all-too popular at trade shows.
Trade show zombies are those slow-moving, nearly brain-dead attendees stumbling down the aisle.  After a few hours wandering a trade show floor, their brains are on overload from the visual and sensory torrent.  They've lost the mental ability to recognize why they should stop in your trade show booth and talk to you.
Photo courtesy of Night Owl City via photopin cc