Potential Remake at South Boston Convention Center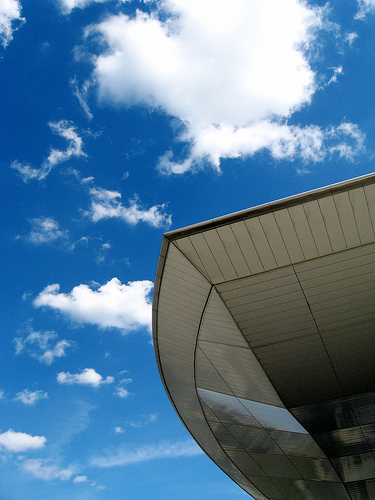 -The Boston Globe
The Massachusetts Convention Center Authority on Wednesday filed legislation for a massive expansion of its South Boston exhibit hall, saying the $1 billion project is necessary to make Boston a top US destination for meetings and trade shows.
If approved, the project would increase the meeting and exhibit space at the Boston Convention & Exhibition Center by 60 percent. The existing building, which opened in 2004, is already the largest of its kind in New England.
The authority's executive director, James Rooney, said expanding the center itself could be funded without any new taxes or fees. But he said public subsidies will certainly be needed for a separate project the authority is pursuing — an adjacent hotel complex with up to 1,500 rooms.
Rooney has long argued that the two projects are necessary to help Boston compete for the nation's biggest trade shows.
NASCAR's Green Efforts Make It a Sustainability Leader in Sports
-Huff Post Sports
Five years ago, NASCAR realized that it stood in an important position when it came to becoming a leader in the nation's green movement. Hosting races across the United States where fuel was consumed and emissions were sent into the atmosphere, the motorsport sanctioning body took a look at its business platform and recognized that it could turn those environmental harms into benefits.
Games in All Sports at Service Academies Suspended
-NBC Sports
As it turns out, the Air Force-Navy game isn't the only one facing cancellation.
In a press release sent out a short time ago, Navy announced that the Department of Defense has suspended all intercollegiate competitions at the nation's service academies due to the government shutdown.  At the very least, the Air Force-Navy game as well as Army's game at Boston College are in danger of being canceled.
SMG to Continue Managing Detroit's Cobo Center
-Successful Meetings
Venue management company SMG has been awarded a three-year extension of its management agreement with the Cobo Center in Detroit, originally signed in 2010, the Detroit Regional Convention Facility Authority (DRCFA) reported last week.
"SMG sincerely appreciates this vote of confidence from the Detroit Regional Convention Facility Authority," SMG President and CEO Wes Wesley said in a statement. "We are proud to be a part of the team they put together to reorganize and renovate Cobo Center."
Controversial Deal with Panthers to Improve Stadium, Allow City Use of Facility
–WSOC TV
Eyewitness News is getting more details on exactly how Charlotte will benefit from giving $87 million to Bank of America Stadium. Major construction will start inside the stadium in January.
The city council just gave the Panthers $28 million in the first of a three-part deal. Deputy City Manager Ron Kimble said the money will build escalators inside.
IMG College, Keurig Brew National Deal
-Sports Business Daily
IMG College has brought a new national sponsor into the college space by signing Keurig to a 25-school deal, marking the agency's first national sale in a year.
The arrangement grants Keurig, which manufactures single-serve coffee and tea makers, sponsorship rights to 25 schools across the country during the first year of the deal, 27 schools in year two and 29 schools in year three. The schools that are part of the deal right away include Texas, UCLA, Arizona, Florida, Georgia, Nebraska and Pittsburgh, some of the largest college properties in IMG College's 80-school portfolio.
Blow-Up Buildings: 17 Inflatable Works of Mobile Architecture
-Web Urbanist
Ephemeral, often amorphous inflatable structures eschew the nature of human habitation, occupying a space only temporarily and making few promises about protection from the elements. Altering existing structures or creating usable, climate-controlled event space in typically undesirable urban locations, these 17 blow-up buildings, balconies, complexes and even entire cities can be assembled and taken down in mere minutes.
 Minnesota Vikings Stadium Seat Licenses will Average $2,500
-Twin Cities
Minnesota Vikings fans would pay an average of $2,500 for the right to purchase a season ticket for a seat in the new stadium, the public authority overseeing stadium construction said Thursday.
The Minnesota Sports Facilities Authority is scheduled to vote Thursday evening on the 30-year lease and financing agreements between the authority and the team that have been the subject of negotiations for weeks and were scheduled to be wrapped up shortly before the 5 p.m. meeting.
The March of Craft Beers
-IAVM
Craft beer isn't just for hip bars and brew snobs. It's finding its way into stadiums and arenas all across North America, too, as part of an effort to improve attendee experience.
"Craft beers are slowly muscling their way into NHL arenas and other major-league sports venues as stadiums understand that the microbrew companies are offering a tasty, diversified product that fans desire," Alan Snel recently reported for the Las Vegas Review-Journal.
Judge Halts Work on World Cup Stadium
-The New York Times
A Brazilian labor judge ordered the suspension of construction work at the World Cup stadium in Curitiba because of concerns related to workers' safety. The stadium is one of the six trying to make the December deadline established by FIFA for the delivery of all 12 World Cup arenas.
Photo courtesy of randomcuriosity via photopin cc