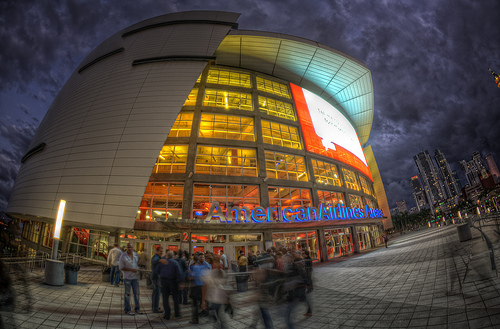 NBA Finals – From the GMs
–Venues Today
Seven small Super Bowls. That's how Kim Stone, GM for AmericanAirlines Arena in Miami, looks at the National Basketball Association Finals, which can last a total of seven games.
This is Stone's third year in a row hosting NBA Finals games. Last year, the building's tenant Miami Heat won the championship at home.
"The more times you do something the easier it becomes, and we pride ourselves on being a learning organization," said Stone. "We keep a lot of detailed notes and review them prior to the next time we have a similar event so we can make improvements. We're big on always wanting to learn and get better."
It's Time to Go to School on the Affordable Care Act
–IAVM
The new federal health care law known as the Affordable Care Act (ACA) kicks in as of January 1, 2014 when most employers with the equivalent of 50 or more full-time employees must provide health insurance or face significant penalties.
For the public assembly venue industry, many are doing their due diligence in anticipation of the law and the areas of employer mandates, affordable coverage, potential penalties and tax implications.
NFL to Limit Bags in Stadiums
–ESPN
The NFL is tightening stadium security starting this preseason, limiting the size and type of bags fans can bring to the game. The restrictions are designed to enhance security while speeding up entry into stadiums.
With the exception of medically necessary items, only clear plastic, vinyl or PVC bags no larger than 12 inches by 6 inches by 12 inches will be allowed. One-gallon clear plastic freezer bags also will be OK, as will small clear plastic bags approximately the size of someone's hand, with or without a handle or strap.
Reality Rocks: Returning Rockers and Reality TV Spinoffs Now Fill Arenas
–The Economist
Arenas, which accommodate between about 10,000 and 20,000 people, fall between academies (which hold around 5,000 people) and stadiums (up to 90,000 people) in the live-music market. A band that can fill them regularly has made it big. But there is a supply problem. "Not a lot of young guitar bands are coming through," says John Langford, the director of events at SSE Hydro Arena in Glasgow, which will also open in September.
Shirtless Protester with Flare Rushes Court at French Open Final
–USA Today
A shirtless, masked protester carrying a lit flare jumped on the court during Sunday's French Open final, near where Rafael Nadal was preparing to serve to David Ferrer. The man jumped over fans in the front row and ran behind Nadal's bench before he was tackled by security and removed from the stadium.
Live Nation Charged in Stage Collapse
–Venues Today
The Ontario Government filed 13 charges of provincial offenses against Live Nation and others for the June 16, 2012 stage collapse before a Radiohead concert at Downsview Park in Toronto that killed the band's drum technician Scott Johnson.
Outdoor Venues Can Turn into Disaster Zones in Minutes
–Pocono Record
NASCAR races at Pocono Raceway are known for their own brand of controlled chaos, with infields packed with homemade viewing platforms, repurposed school buses and hundreds of excited fans.
But last year's Pennsylvania 400 was subject to a different kind of chaos, one that was far from controlled.
Brian Zimmerman, 41, was killed after lightning struck him as he leaned on his car in one of the track's parking lots. His death resulted from a fast-moving storm that swept the area approximately 15 minutes after the raceway told fans, via Twitter, to "seek shelter" from "severe lightning and heavy winds."
Worker Killed At 49ers Santa Clara Stadium Construction Site
–CBS SF Bay Area
Construction of the San Francisco 49ers' new stadium in Santa Clara was suspended after a mechanic was killed while working in an elevator shaft at the site on Tuesday, authorities said.
The accident was reported at 6:53 a.m. at the location of what will be Levi's Stadium, the $1.3 billion venue at Centennial Boulevard and Tasman Drive slated to open for the 2014 NFL season and host Super Bowl 50.
New Convention Center Reintroduces Cleveland to the Convention Business
–News Net 5 ABC
The new $465 million Cleveland Convention Center and Global Center of Health Innovation does something the old convention center couldn't: Put Cleveland back in the convention business.
"Our convention center was built in different pieces, mostly in the 20s and 30s," said Positively Cleveland President and CEO Dave Gilbert of the old facility under Cleveland's downtown malls. "It had very low ceilings, too many columns. It was a little old. It was a little dingy and so we had very few customers who would really look at Cleveland."
Tom Petty & Heartbreakers Gig at Fonda Cut Short by Fire Marshals
–Los Angeles Times
Tom Petty & the Heartbreakers' concert Saturday night at the Fonda was cut short when fire marshals declared the venue overcrowded and shut it down. The concert was the fourth of six Petty gigs at the theater, which has a capacity of 1,300, and the move infuriated fans, who refused to leave amid howls and boos.
Brett Batterson on How the Performing Arts Can Help Heal a Child's Grief
–Chicago Sun-Times
On a bright, sunny June day when I was 7 years old, I received news that would change my life forever. I was playing on the front stoop of a neighbor's house when a big, black car pulled up in front. Out stepped two men who proceeded to inform my mother, my two brothers and me that my father had suffered a sudden heart attack and was dead. He was 30 years old. So was my mother.
Photo courtesy of Junior Henry. via photopin cc