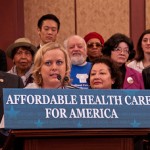 The new federal health care law known as the Affordable Care Act (ACA) kicks in as of January 1, 2014 when most employers with the equivalent of 50 or more full-time employees must provide health insurance or face significant penalties.
For the public assembly venue industry, many are doing their due diligence in anticipation of the law and the areas of employer mandates, affordable coverage, potential penalties and tax implications.
The buzz about the ACA is being talked about on IAVM's social networking forum, VenueNet. This is a great place to go to hear what your peers are doing in advance of the new law, and to share steps and implementations you are taking. The August/September issue of Facility Manager magazine will also feature expert commentary on the subject to help you make sure you are in compliance with the law.
Tim Riddle, CFE, general manager of the James H. Rainwater Conference Center in Valdosta, Georgia, said on VenueNet that at his venue, "Accounting is monitoring hours of all part-time staff to ensure we do not cross thresholds that would 'kick in' certain benefit offerings, etc."
Riddle went on to say that he believes the ACA is "hurting folks trying to work their way ahead. I've heard from numerous private sector employers that have cut hours back and hired more part-time workers for this reason. So, now some of those original part-time workers are looking for other part-time jobs to replace hours lost on the first job."
"The lack of discussion on this is amazing. It seems like everyone has their head in the sand hoping it will go away."
Joe Floreano, CFE, executive director of the Rochester Riverside Convention Center, added that his venue is also monitoring on a monthly basis.
"For us it will increase the number of employees receiving medical from 42 to 150," he said. "I along with my HR and CFO have attended several seminars. The lack of discussion on this is amazing. It seems like everyone has their head in the sand hoping it will go away."
It will not go away, of course, and every day draws employers one day closer to the law becoming fully effective.
Riddle attended a regional Economic Summit and heard from the Georgia Chamber of Commerce on the subject. Part of the session included a concise handout of the Affordable Care Act Summary.
Todd Hunt, CFE, director of the BancorpSouth Arena in Tupelo, Mississippi, added that a session on the law will be presented at the Arena Management Conference in Toronto in September.
Please be sure to join in the discussion on VenueNet and share your knowledge or ask your questions with your peers facing the same decisions you are. Rest assured it will be time incredibly well spent.
photo credit: SEIU International via photopin cc