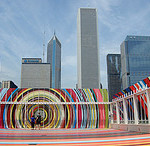 One of the best things about our industry is that we're not limited by geography or cultural boundaries. Because each country has its own exhibiting style, rules and practices, it's important to acquaint yourself and your team with the differences so you don't go into this process blindly.
During my career, I've had the opportunity to manage global brand activations for many clients, and I've developed practices that provide the best opportunity for success.
Here are my top four that you need to know if you're exhibiting internationally:
1. Understand Terminology and Practices – In the U.S., structures are referred to as "exhibits" or "booths," but internationally they're referred to as "stands." In the U.S., local union labor sets up your exhibit; internationally, however, where there is no union labor, the carpentry team that builds the stand typically travels to the show and actually sets up and dismantles the property. In the U.S., utilities run directly underneath your carpet and pad, but internationally, due to electrical fire concerns, raised platform floors are used and utilities are run under the floors. It is also useful to know that sustainable practices vary from country to country. Outside North America, a onetime use stand – usually referred to as a "build and burn" – is a common option and may be the most cost-effective approach. As hard as it is for us to believe in the U.S., these stands may actually be built right on the show floor and then thrown away at the close of the show.
2. Know Your Conversions – Outside of the U.S. exhibits are configured in square meters instead of square feet so it comes in handy to know that there are 10.7639 square feet in a square meter. In Europe, electrical voltage is 220 versus 110 in the United States. Depending on the voltage rating of your electrical equipment, appliances and fixtures (some are made to run only on 110 volts while others are rated for voltage from 110 to 240) you may need a power converter, also known as a transformer. This helps appliance to run properly and prevent damage. You probably know that the electrical sockets are different in many parts of the world and you'll need adapters so U.S. plugs can fit in these sockets. Be aware however that most of these adapters do not convert voltage so you may need a power converter too as discussed above. Here's a link to a useful tool for global electrical conversions. Finally, you'll need to convert U.S. dollars to whatever the currency is in the country you happen to be visiting so this currency conversion tool is a must-have when traveling internationally.
"It's not uncommon for international shows to run for a full week or more with the show floor open for 8–10 hours each day."
3. Keep A Steady Pace – In the U.S., expos are open an average of three days with the show floor open for an average of six hours each day. It's not uncommon for international shows to run for a full week or more with the show floor open for 8–10 hours each day. This can be a grueling schedule and since international stands don't have double pad and carpet to help alleviate tired feet, it's important to pace yourself in order to avoid fatigue and burnout. Generally, U.S. exhibits are designed for maximum engagement between booth staff and attendees with the focus being on product demonstrations or explaining the services offered. Internationally, however, stands are designed for more social interaction where the attendee may linger for 30 to 60 minutes or more. Many stands serve food and even alcohol to facilitate the social aspect of the exhibit and to keep attendees in the space allowing booth staff to nurture and solidify relationships.
4. Communication Barriers – To keep you from feeling disconnected while you're abroad, use this helpful tool for calling codes. Make sure to take advantage of free Wi-FI and your phone. Use mobile apps to get you through your journey. For some quick tips, here's a blog I wrote about some of my favorite travel apps. Also, don't forget to "close out" your apps and save yourself a huge data overage. Here's a blog from my coworker where he learned the hard way. And if you don't speak the same language as your attendees, don't get discouraged. Use non-verbal cues and body language to read their interest in your exhibit. Try your best and they'll appreciate the effort you're making.
Remember, no matter how well you think you understand a country and its culture, there's always more to learn, so make the effort to build and nurture personal relationships.